diTella-Colaianni

This is the family of Cris Swetye. Cris' great grandparents were Prospero diTella and Maria Bambina Colaianni.

Cris and I are related two ways:
1. common ancestors are Giovanni Nicola Colajanni and Loreta Rotoli.
2. common ancestors are Donato Musillo and Lucia diTella.

Graphical Tree diTella-Colaianni Family Tree (0.6+Mb JPG File).

In Mar of 2004, Cris wrote:

"

I just looked at your website and found it very interesting. I, too, am a descendant of a Colaianni/DiTella family from

San Pietro, Avellana. My great grandfather was Prospero DiTella (1857-1928). He came to the US in 1883. While still

in San Pietro, he married Maria (Bambina) Colaianni (1853-1923), daughter of Giovanni Colaianni and Maria Morelli.

Maria Bambina came to the US to join Prospero in 1890, bringing their daughter, Maria Cristina (1882-1950), my

grandmother. I know little more about this family, but find it quite coincidental that the names and places are so

similar. Should you come across these given names in your research, I would love to hear from you

."

"

I knew that Prospero had twin sisters. Caravita (who was named for her grandmother, Caravita Ciotoli) married Giuseppe Colarosa. They moved to Denver Colorado in 1900. Nicolina Giovanna (she went by Giovanna) married Bernardo di Croce in SPA (1872) and had two sons (one died at birth). Bernardo died at the age of 36 and Giovanna died in her 50's. That son joined Prospero in Salem, Ohio in 1900. The name diTella was changed to Detell and the name diCroce was changed to DeCrow once they got to Salem.

"

In the years since, we have helped each other find out much more about our families.

In Mar of 2005, she wrote:

"

I take a look at your website from time to time to see what's new. I do love the history of S Pietro A. Hope the project is going well. I got to the part where the author speaks of the large group who first emigrated in 1881 and it reminded me of what I found. I am attaching the

spreadsheet of passengers on the Ferdinand de Lesseps

that arrived in New York in Feb of 1882. It isn't quite 60 men, but the list reads like a San Pietro phone book. I haven't had time to check the names against the microfilm, yet. I thought you might like to see this.

"

Mark's note: Oct 2006 - I've expanded this spreadsheet into a web page about the 1882 arrival of the Ferdinand de Lesseps.

In May of 2005, Cris wrote:

"

I was just looking at your website again (I always see something I missed. Your site is like a wonderful labyrinth of

information). Most of my family from SPA changed their names. While they never admitted it, it was because they were

the first Italians and didn't want to seem too foreign. The name Prospero di Tella became Joe Detell. Giuseppe di Croce

(son of Giovanna di Tella and Bernardo di Croce) changed his name to Joe DeCrow. Emiddio Colaianni (son of Giovanni

Colaianni and Caterina di Tella) changed his name to Meady Colon, but his brother Nunzio Colaianni changed his to Joe

Colian. Coliann was also used by family in Wooster. The rule of thumb in the family seemed to be if a name was not

translatable, then use Joe. Mary if it was a woman.

"

"

I agree with you that most people didn't change their names. I didn't mean

to imply that. I only know of my family-or at least the ones who settled in

Salem, Ohio. Prospero was one of the earliest Italians in that small town

in 1898. He changed his name. Several cousins and a nephew from SPA joined

him there. They also changed their names. They didn't want to be

foreigners.

"

"

As for changes made at Ellis Island, I have never seen that either. I have

an excellent example of how that myth got started. Giuseppe di Croce came

to the US early in 1900. He first lived in Ambridge, PA. The 1900 census

was taken not long after he got here and his name was listed as Giuseppe di

Croce. When he moved to Salem, Ohio he changed his name to Joe DeCrow. I

have several intention papers that show his name spelled differently. His

last Intention paper,in 1938, was for Giuseppe Di Croce (Joe Decrow). When

his grown grandchildren took an interest in their Italian heritage, they

asked him what the name was back in Italy. He told them he didn't know. He

said the name had been changed at Ellis Island. It hadn't. Ship's roster

says di Croce, US census says di Croce, even his intention paper says di

Croce. His grandchildren had no idea what the name had been originally

until I started looking for it. My own mother had a similar situation with

the name Detell (di Tella).

"

"

I think name changes mostly occurred when there were no other Italians in the

town they moved to. Had there been a large group of them, they would have

had a support group and not felt so foreign and out of place. I've noticed

that those Italians who went to Salem after 1905, with the exception of

those who were from SPA (and related to Prospero), kept their original

names

."

"

The only reason I mention any of this is that I can't believe that I'm the

only one dealing with name changes. It is very difficult to do family

history if your family has forgotten their original name.

"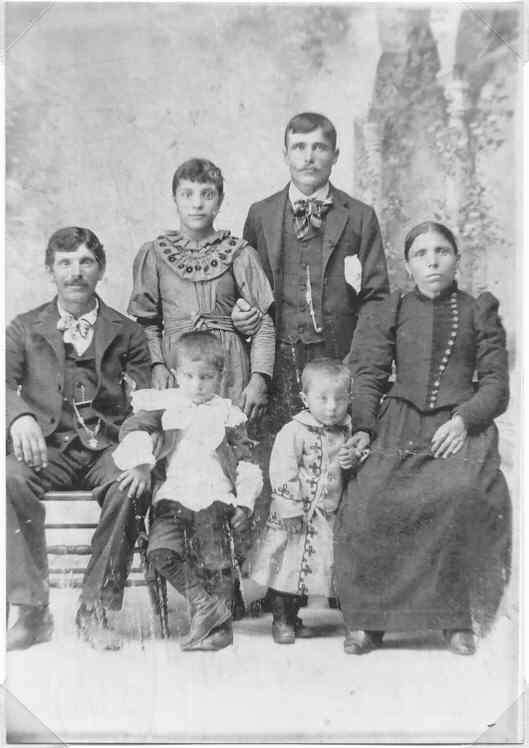 From Cris Swetye, Jun 2006:

"

Thought I'd send you a photo of Prospero di Tella and Bambina Colaianni. The photo was taken about 1895 or 1896. The couple seated are Prospero (Joe Detell) and Maria Bambina Colaianni. In front are their two sons, Louis and Joseph Detell. Standing in the back is their daughter (my grandmother), Maria Cristina di Tella and her "intended" Antonio Volpe.

"

---
This site prepared and maintained by Mark DiVecchio

email : markd@silogic.com

DiVecchio HOME
Frazzini HOME
Site HOME



If you can help with the expenses to develop this web site:

---