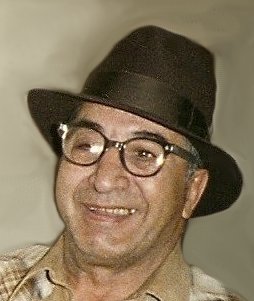 Guy Gatti

Service:
Thursday, July 11, 2013
11:00 AM
Our Lady of Sorrows Catholic Church
A Street & Broadway
Rock Springs, WY

Guy H. Gatti

Rock Springs- Guy H. Gatti, 97, of Rock Springs died Friday, July 5, 2013 surrounded by his family.

He was born October 25, 1915 in Colorado Springs, Colorado, the son of Erminio V. Gatti and Concetta Frazzini Gatti. He married Rose Marie Dorrence August 17, 1941 in Rock Springs. She preceded him in death on December 12, 2010.

He was employed for FMC as a mine warehouseman for many years.

He was a member of the Holy Spirit Catholic Community. He was also a member of the United Mine Workers and Knights of Columbus.

His interests were playing cards, gambling, and was a fan of the Wyoming Cowboys, Denver Broncos, and the Atlanta Braves.

Survivors include his daughters Betty Auld, Connie Gatti, and Cathy Cherny all of Rock Springs, Rosemary Gustafson and husband Mike of Thief River Falls, Minnesota, and Barbara Gatti of Rock Springs; brother John Gatti; daughter-in-law Diana Gatti; grandchildren, Maria Mortensen and husband Heath, Annete Ice and husband Brad, Scott Auld and wife Kim, Ron Gatti and wife Michelle, Eva Larsen and husband Wade, Bobbie Harris and husband Chris, Karris Cherny, Chad Cherny and wife April, John Cervantes and wife Shelley, Jason Cervantes and wife Jessie, Angella Cervantes and fiancé John Wheeler, Fred and Michelle Gomez; great-grandchildren, Aly Menegassi and husband Mike, Gavin Mortensen, Emily and Aubrey Ice, Scotia Auld, Tiffany Harris, Megan Gilbert and wife Sara, Guy Harris, Jaycee, Jensen, Justin and Richa Cherny, Colton, Grace and Selah Gatti, RJ and Bobby Larsen, Nicholas, Carley, Josie, Macie Cervantes, Ben Haugan, Aldan, Lilliana, and Michaela Farias, and Roper Gomez; and great-great-grandchild PJ Tomison.

He was preceded in death by his parents, son Robert Guy Gatti, sister Mary Ferrero, brothers Primo, Fred, Jimmy and Joe, and great-granddaughter Storey Ice.

A Mass of Christian burial will be celebrated at 11:00 a.m. Thursday, July 11, 2013, at the Our Lady of Sorrows Catholic Church, 116 Broadway, Rock Springs. Father Glen Szczechowski will officiate. A vigil with rosary will be recited at 6 p.m. Wednesday, July 10, 2013, at Fox Funeral Home, 2800 Commercial Way, Rock Springs. Interment will be in the Rock Springs Municipal Cemetery.