Sam and Mary Collian immigrated to Wooster, OH. On 2 July 2010, Bob Collian, their grandson, posted this to my guestbook:
Robert,

Thanks for your posting in my guestbook.

The actual spelling in Italy is Colaianni. That name was even spelled differently in the early 1800's - it was Colajanni.

I've seen many Americanized spellings of the name. It is a difficult name for Americans to pronounce correctly so it got changed a

LOT

.

Do you know your grandmother's maiden name or the name of your grandfather? When did they live in the US? Or maybe about when they come to the US? The name "Dawn" is not Italian so it must have been changed from something.

I'll do some searching and see what I can find.

ciao.
Mark
Mark.........Thanks for aswering my note. I'm sorry but I can't give you any more info. I'm the last one in the family I'm (79)...All of the OLD Italians in our communty are gone, so there is no one I can talk to for info. The only reason I know my name is Colianni is from the last Italian to know my Grandmother. I was not able to get anyother info. other than she was born around 1891 in Campobasso. This is about the extent of my research. Again I want to thank you for your interest......
Robert Colianni (Collian)+
Robert,

I'd like to help you find out more.

Colaianni is a very rare name in Italy and it's most likely that your grandmother is from San Pietro Avellana which used be to in the province of Campobasso (now in the province of Isernia).

If you want, tell me about your parents. Where and when they born. Where and when they died. Where they lived in the US. Any dates or places or other relatives that you remember. Names of your siblings and when they were born.

I'll be happy to help do some research if you want.

Mark
Mark.....Thanks for the little extra info. Was able to get some ot the info you asked for.. didn''t know this would be of help. My Grandmother was born in 1864 in Campobasso. Her daughter was born in 1891 , I assume in the same place. and was about 2 or 3 yrs. old when they hit Ellis.....My Dad (her son) was born in 1903 in Salem, Ohio ...I have no info on his Father. My Mother was born in 1914 in Clarkdale, Iowa. Her parents were Joseph and Margaret Chirillo......Both sides of the family came to Wooster,Ohio where I also was born (1931) They all passed away here....This is a very small town, and death records when they died are not very reliable. I really appreciate all you have done and are doing. Is it possible we may be distant relatives ???????
Thanks again......Bob
< I sent Bob a bunch of questions>
Mark...
don't mind all the questions...Ask any and all you want. Here is the info you wanted....All of my relatives died here inWooster, Ohio My Grandmother in 1940, My Dad in 1983, My Mother in 2007....My Dad's name was Samuel and my Mother's name was Elizabeth. As far as I know , dad had a brother Joseph and a sister Santa. Hope this is what you wanted and hope it will help.
Bob
Bob,

I have a two documents for you. I believe that these are the people that I think they are. Let me know if you agree:

1. 1947 Ohio Death Certificate for Mary Collian (or Maria Colaianni), your grandmother.
2. 1944 Ohio Death Certificate for Joseph Collian (Colaianni), your uncle.

ciao.
Mark

about 1940 Maria Antonia Colaianni "Mary Collian".
Sent to me by Carmelita Williams.
Mark...You are GREAT..Your right on the Money. I remember all of this, but I was a little boy and I sure wasn't interested in where my relatives were from. Now at 79 years it means something. You sure are SUPER at this kind of thing. I don't know if you have anything else or not. If you do, I welcome it. If not this info is most appreciated. Thanks again, and if by chance you need any other info. let me know. If not, please keep in touch.You are a good person. If you don't mind, tell me a little about yourself. Is there something I can do for you. I don't know what itcould be.
BOB
Bob,

I'm happy to do this research. I'm a retired Electrical Engineer who worked in the computer industry. I retired in 2003 and have become a full time genealogist.

Here are two more docs:
1920 census Wooster, OH
1930 census Wooster, OH

Both show Maria Collian and son Sam. Father, Samuel, must have died before 1920. I can't find the family in either the 1900 or 1910 census.

Can you confirm that this is your father and grandmother?

ciao.
Mark
Mark.....Maria is my Grandmother, and Samuel is my Father....He died in 1983...He or anyone else never talked about his Father, so I do not know anything about him.........I have been retired for 25 years....I was a Purchasing Agent for the State of Ohio Ag. section. Before that I was on the local Police Dept.for 10 years. I was in the Air Force during the Korean War, with a 2 year hitch on Okinawa. I was just starting College when the War broke out. Never did finish.Sorry I didn't.......
Take Care...Once again THANKS. Bob
Robert,

Did you Aunt Santa marry a man named Bruno Scale?

ciao.
Mark
Mark......You are right again....My Aunt Santa was married to a Bruno Scale. I didn't know this info would be of value
to you in your searches. I probably know a few other little bits of info, but don't know if you could use them
BOB.
Bob,

Bits and pieces always help in genealogy searching.

It looks like your aunt Santa was born about 1899 in Wooster. Do you know her actual birth date?

I've been tracking down a couple of leads with a woman who might be your 2nd cousin but we are not sure about some information so I don't want to email incorrect information.

Please put up with my questions for a little while longer.

Do you know of any aunts or uncles older than Santa who might have died?

ciao.
Mark
Bob,

Have you ever talked with the children of Santa and Bruno about what they know? They had at least 7 children. To make the connection back to Italy, what we need is more information about the family from when they came over on the boat to when they ended up in Wooster.

ciao.
Mark
Hi Mark.....Your are right....Bruno & Santa did have 7 children. Three of them were from another woman and Bruno
took them in. I never had any contact with them. They are all gone now. The remaining four....2 of them are gone.
The last two are scattered. Other than knowing them , I don't see them much. If I did make contact I don't think
I could get very much info. I can try. It might take some time. We might be up against a Brick Wall//// .......Take
care...ciao...BOB
Mark.....Santa and Bruno have two Boys still living.....Joseph and Bruno Jr. After a number of calls, I finally was

able to talk to Bruno Jr. HE like me wasn't interested in relatives when a youngster. What info he gave me was

obtained just a few years ago from the records at Ellis Island. His father (Bruno Sr) came to Ellis in 1913 on the

ship Verona. Found work and settled in Wooster, Ohio. He died in 1956. His real name was Scali and was changed to

Scale at Ellis. I wasn't able to contact Joseph, but Jr. said he probabley didn't have any more info than he had.

Hope you can use this info. If there is anything else you want me to try to look up, let me know. This small

settlement of Italians was very closed mouth. BOB.

......
Bob,

Attached is the 1920 census showing your mother at age 4 years and 9 months with her parents.

They lived on Massaro Street not far from the home of your father.

ciao.
Mark
Mark.....Thanks for the info about my Mother....I know very little about my Grandmother (on my mothers side} What little
I do know, my mother told me a few years before she died. She either didn't want me to know, or thought I didn't need
to know. My grandmother was married twice. To a Chrillo (mom's real dad, and Monaco, a step dad. Both of them were
bumped off by the Mafia. The police didn't do much. Back in those days they were very lax on anything mob related. So,
growing up all I knew was my grandmother was single and her name was Monaco.....My Mother was about 8 years old when
her Father was hit. Her step dad was hit a few years later. I didn't tell you this earlier because it was on my mothers
side and didn't think you could use it. Maybe this will open some doors?????? What a story, Huh. Take care......BOB
Bob,

These hints really help. Cris Swetye is the potential 2nd cousin for you. She is a very good researcher. I've known her for almost 10 years. She found the two attached death certificates for your grandfather, Joseph Chirillo, and step-grandfather, Samuel Monaco.

Do you have newspaper clipping from those days? Can you tell me about the your mother's brothers and sisters? The census showed a Louis and an Angeline. Are there any 1st cousins (their children)?

ciao.
Mark
Hi Mark........Yes I did have an Uncle Louis and an Aunt Angeline. Both are gone. I have 1st. cousins from both, but I
don't know what kind of info you want. You mentioned a Cris Swetye. What is the connection??????
Bob,

I'm pretty sure that Cris Swetye is your 2nd cousin once removed. I'm both a 5th and 6th cousin to you, four different ways.

I will try to explain how - but it might take a few emails over a few days to get my thoughts straight.

First, both she and I have been at this genealogy a long time. In my case, I got interested in my 50's (Cris is a bit younger than me and started much earlier). At the time both of my parents were still alive and I was able to learn a lot about my genealogy from them. My mother died in 2007 and my father died in 2009.

It was the same for Cris. Also, her mother died in 2006, her father in 1981. Her aunt Julia was a prime source for her family's genealogy.

When I got your first emails, parts of your family's story sounded familiar. I found the 1947 Ohio death certificate for Mary Collian and you confirmed that she was your grandmother.

The information on the death certificate seemed to fit a story that Cris told me years ago. Here is Cris' story:
--------------------------------------------------------------------------------


My great grandfather Prospero diTella came to the US in 1883. He left his wife Bambina Colaianni and 1 year-old daughter, Maria Cristina back in Italy while he looked for work. In 1890, Bambina and daughter came to the US to join Prospero. They lived in the little town of Freedom in Beaver County Pennsylvania. They had two more children, Louis in 1891 and Joseph about 1893.





I was told this story by my Aunt Julia as it was told to her by her mother, Maria Cristina. In about the late 1890's Bambina's sister came to the US with her children to live with her husband in Wooster, Ohio. She stopped in Freedom to visit her sister on her way to Wooster. When she got to Freedom her child was ill. He had gotten ill on the ship, but authorities didn't pay much attention at that time and they were not quarantined. The child had diphtheria and within a few days Bambina's son, Joseph, became ill as well. Both children died. They are buried in Freedom.





Through research I discovered that Bambina's only sibling was Mariantonia Colaianni. I never found a marriage record for her but I did find reference to a Mary Collian living in Wooster with her son Sam. I never knew for sure if this was Bambina's sister, but I also found an entry for this Sam Collian of Wooster in my grandmother's funeral book. The significance here is that he took the time to drive from Wooster to Salem for her funeral in 1950

.
--------------------------------------------------------------------------------

So Cris and I saw a lot of potential connections from this story. Your father, Sam, actually travelled to Salem for the funeral of Cris' grandmother in 1950.

The next part of the story tomorrow.

ciao.
mark
Mark....You and Cris are SUPER in what you do. I can't wait for Chapter two. And I can't even begin to tell you how
happy and great this info makes me feel. More so at these last years of my life. Always did wonder where it all
started. Should have started this interest 30 - 40 years ago. Next time you are in touch with Cris, give her a BIG
THANKS for me. I'm excited and waiting........
B O B
Chapter 2

The next document that we found was the 1897 Ellis Island Manifest for Maria Antonia Colaianni and her two children Vincenzo and Michelina. The manifest showed that Maria Antonia was 33 years old, Vincenzo was 7 years old and Michelina was 5 years old. They were going to their father - Sabatino Colaianni. They were from San Pietro Avellana.

At 33 years old, Maria Antonia would have been born in 1864. This with the name of the father, Sabatino, convinced me that here were your grandmother, an uncle and an aunt.

I asked Cris what she though and she said:



"By the sounds of it, I would have to say that Robert is the grandson of Maria Antonia and Sam Colaianni. From what I know, Sam died quite early as I never found him in a census, but I found "Mary" and her son, Sam in Wooster. Death records show Mary and Sam had a son named Joseph who died in 1944. He was unmarried. I never knew that Sam Jr. married, but it wouldn't surprise me. He signed in my grandmother's funeral book so he must have attended calling hours. That was in 1950 and since his wife didn't attend I guess I assumed he had never married."



and



"As for the EI record, that sure looks like it's her, huh? Makes her age right and the right husband. Is that Vincenzo 7, and Michelina, 5?? My guess is that the 5 year old was considered the baby and in 1897 she would have been about the same age as Joseph. They both died in Freedom, Pennsylvania if the story is correct. And they would have been buried in the Catholic Cemetery there -- probably unmarked."



We verified the birth of Vincenzo in San Pietro Avellana on 16 Sep 1890 to Mariantonia Colaianni and Sabatino Colaianni.

Michelina, was born during a period of three years (1891-1893) where the birth records in San Pieto have been lost.

So based on Cris' family story, it was either Vincenzo or Michelina who died in Freedom from diphtheria.

More in chapter 3.
Mark....Your notes and other info. are really making the puzzle fit. Looking forward to Chapter #3.. One thing though
that is still a mystery is ...All of the info surrounds the name Colianni, where, when and why did the name Collian get
into the picture....Was my Grandmother Maria Antonia married a second time, or maybe living with someone by the name of
Collian????? If her two children that came over with were Colaianni and my father and his brother and sister were
Collian, it seems odd. Would you have info on this.. Maybe in Chapter #3.... Is there anything that you might need
from me. Bob
Chapter 3

You told us that as far as you knew, your dad only had a brother Joseph and a sister Santa.

We found the 1944 death certificate for Joseph and we found that Santa had married Bruno Scali (Scale). You confirmed that for us.

We found the 1920 and 1930 census sheets for Wooster which showed your father, Sam, and grandmother, Maria. The census records did not show Joseph, and Santa was already married by 1920.

You told us about your parents, Samuel Collian and Elizabeth Chirillo. We found their marriage record for 10 May 1930 when they were married in Wellsburg, West Virginia.

So we are pretty sure that Sabatino Colaianni and Maria Antonia Colaianni had five children. What we knew at this point in our research:

Vincenzo Giovanni : born 16 Sep 1890 in San Pietro Avellana - died of diphtheria about 1897 in Freedom, PA
Michelina : born between 1891-1893 in San Pietro Avellana - death unknown
Santa : born about 1898-1899 in Wooster or Salem - died in 1978 in VA
Joseph : born 19 Mar 1902 in Salem, OH - died 12 Jul 1944 in Wooster, OH
Samuel George : born 5 Oct 1903 in OH - died 21 Apr 1981 in Wooster, OH

So you and Cris are 2nd cousins once removed because your grandmother, Maria Antonia Colaianni, was the sister of Cris' great-grandmother, Maria Bambina Colaianni.

More in chapter 4
Mark....I have two pieces of info. that I think you will find very interesting. Ref: my Uncle Joseph.... He spent a
few years in jail (won't go into detail)....Was not a healthy man and as you can see, he died rather young. You have
info. on Santa wrong. She died in Wooster and is in the local cemetary. This last info. will clear up some things for
you. Michelina survived the diphtheria scare in Freedom, PA....She also was my Grandmother on my mothers side....I'm
not really sure but I think my father was born in Salem, OH. Hope this info. is valuable to you. I'm sure Cris would
like to know this also.. Your bit about NAMES was interesting. I guess thats the way they did things back then, but
it sure is strange. Well FIRE away with chapter 4.
Bob,

Cris and I realized about a week ago that Margaret Monaco was really Michelina. We weren't sure that you knew.

As genealogists, Cris and I have learned that since we research the past, what we find is in the past. We just try to document what actually happened.

We were confused about Santa and were she died. We found someone else's family tree on the Internet that stated she died in Virginia. Did anyone in your family die in Virginia?

By the way, I emailed three different people who had information about your family in their family trees in the Internet but I have not heard back from any of them.

It is sad to hear about your uncle Joseph.

Cris was excited to learn about Maria Antonia and her family. With your help she has been able to finally find that family.

Chapter 4 tomorrow.
Mark.....After going over all of your research I finally realized that Michelina and Margaret, my grandmother on my
mothers side, were one and the same.As you said whatever happened in the past can't be changed. So it is what it is.
The individual you refered to in VA was probably the story of Bruno and the OTHERS he took in that I told you about.
I think you can figure this out. Thanks for understanding about my Grandmother Michelina. I'm looking forward to
chapter 4...ciao....Bo
Chapter 4 - What we know about Sabatino Colaianni or Samuel Collian.

Very little.

In 1897, Sabatino Colaianni is referened in the Ellis Island arrival of his wife, Maria Antonio, and their two children, Vincenzo and Michelina. The EI manifest says that they were going to meet him in New York.

Cris' family story about Freedom, PA does not include any mention of Sabatino.

We cannot find him (or his family) in the 1900 or 1910 census.

In the 1920 census, we found his wife and son Sam in the Wooster, Wayne, OH sheets. His wife was listed as widowed.

Samuel Collian shows up listed as father on the 1944 Ohio Death Certificate of his son, Joseph, and listed as husband on the 1947 Ohio Death Certificate of his wife, Mary. (Mary's death certificate is reported by her daughter, Margaret Monaco.)

Cris and I are continuing to search for Sabatino. It would have been common that, and it is highly likely that, he is from San Pietro Avellana. The vast majority of people, born in SPA, who moved to the US, ended up marrying someone from their hometown.

We know that there is a Colaianni connection to the town of San Severo, Foggia, Italy. At least one Colaianni from SPA married a woman from that town. There is record of a Sebastiano Colaianni in the Ellis Island manifests of a person who came to the US from San Severo.

But right now, we can't connect your grandfather to his ancestors.

Tommorrow - Chapter 5 - Chirillo
Mark....All this sure sounds puzzleing...I might be able to clear something....You show Samuel Collian as father on the
1944 death Certificate of a son Joseph....I had an Uncle Joseph that died in 1944 and as far as I know I am the only
son of Samuel. You show the 1947 Death Certificate of his wife Mary....That should be his mother Mary. At that time he
was married to my mother Elizabeth.Sounds like the records were mixed up. As for Sabatino, I have never heard anyone
in the family or from some of theolder Italians in the area. He sure is a mystery. Hope you can find something without
much trouble. Bob
-------------
My posting to her:
-------------
I'm researching families from the Italian town of San Pietro Avellana. In your Sullivan tree, you have a Santa Colliani who I believe is Santa Colaianni (used Collian in the US). I was recently contacted by a nephew of Santa. I did some digging on his branch of the family and found your Sullivan tree. I have Santa's family tree going back 7-8 generations.

-------------
Her response:
-------------


I am so happy to hear from you!! I was not able to continue searching for my grandmother's family because I was spelling her last name wrong! My mother & her siblings had very little information for me to go on. My grandmother died in 1978 when I was 22. I had little interest in researching my ancestry then so I didn't ask enough questions of her. Now only 2 uncles are left and while they have some information they are old & can't remember much. I would love it if you could share what you have on her family. I will check out your web site.



-------------
My response:
-------------
We have traced Santa Colaianni's mother's side back about 6 generations. We have not been able to connect her father back. Both her mother and father were named Colaianni. I'm in contact with a couple of cousins on her mother's side. One of those cousins just spoke with Bruno Scale a few days ago. Send me your email address and I'll send you what family tree we have put together. We are interested in learning about the 7 children that Santa raised. The three oldest seem to have been adopted.

-------------
Her first direct email to me:
-------------
Date: Sat, 24 Jul 2010 08:53:19 -0700 (PDT)
From: carmelita williams <outdrgrl56

yahoo.com>
Subject: RE: Colliani in Sullivan Family Tree



Dear Mark,




I have goose bumps! My mother, Carmella, Santa's oldest daughter, died in December 2006. I learned after her death that Bruno Scali, Santa's husband , was not her biological father. The story goes that James & Dominic Scale were the product of a union between Bruno Scale & Maggie, Santa's older sister. I found the 4 of them in Pittsburgh in 1910 through census records. The surname was spelled Skale, but the first names matched. My mother was born in 1915. In the 1920 census I find them in Wooster, Ohio with Bruno & Santa listed as husband & wife, Carmella, Antonio (my uncle Tony) & Helen?, aunt Mary? No mention of Maggie. The story is she left one day to go get ice cream & never came back to the family, but other family members say she lived right up the street for many years! My mother was very reluctant to tell her children the truth about her family. It was like pulling teeth to get her to tell us that James & Dominic were not her full blood brothers. She never told us that Bruno was not her biological father. We buried my mother in St. Mary's Catholic cemetery in Wooster where her parents & brother are buried. St. Mary's Catholic church, which she attended all of her young life has no record of her baptism, 1st communion or confirmation but there are records for all of her brothers & sister. There is some mystery here concerning her birth & parentage. I experienced the same trouble when trying to obtain a birth certificate for her. Please e-mail me any & all information you have. I am so grateful to you for making contact with me. I will contact my Uncle Junie (Bruno) & see what he learned from his conversation with the cousin.





Thank you, Carmelita Williams
Carmelita,

Thanks for your response. Its exciting to learn some of the facts in your email and they confirm what we were suspecting.

I have a ton of stuff for you and it may take a few emails to get it all out.

We were originally contacted by Robert "Bob" Collian. He knew it family was Colaianni but he knew very little about his ancestry (or cousins!). He saw my web site and asked me to try to find out more for him. I contacted another researcher, Cris Swetye. She and I worked together, digging up what we could find.

Bob was the son of Samuel George Collian (Santa's brother) and Elizabeth Chirillo. They (and almost all the other players in this story) lived around Rebecca and Massaro Streets in Wooster.

Maggie (or Margaret Collian) is connected all over in this story. She was born Michelina Colaianni in 1891 in San Pietro Avellana to Sabatino Colaianni and Maria Antonia Colaianni. Cris and I are related to Bob's family via Maria Antonia's Colaianni branch.

We know a lot about Maria Antonia's family but almost nothing about Sabatino Colaianni. Sabatino was known as Sam Collian since that is the name which appears on Maria Antonia's Ohio death certificate (he is listed as husband).

I've attached that death certificate for you, in case you don't have it.

Note that family member reporting the death was Mrs. Margaret Monaco. This is Maggie. She first married a Chirillo (who died in 1920) and then married a Monaco (who died in 1930). They were both murdered by the mob.

More in next email.

ciao.
Mark
Carmelita,

In the 1920 census, the Bruno Scale family was at 821 Rebecca Street and Maggie Chirillo was living at 145 Massaro Street.

In the 1930 census, the Bruno Scale family was at 821 Rebecca Street and Maggie Monaco was living at 1024 Rebecca Street.

So Maggie was always in the neighborhood.

ciao.
Mark
Mark...Ref: the Sullivan family tree.....Everything that Carmelita Sullivan told you is very accurate. In my first
response to you, I mentioned this as Bruno's OTHERS. I pushed this info. aside at the time, because you were
consentrating mostly about my Father. I think you can figure it out...James & Dominic Scale were my Mother's half
brothers. Odd things happened back then, and still haven't changed today. I think Carmelita gave you all she knew,
and I don't know of anything else I can add. But if you think of something, let me know and I'll try. By the way, how
are you coming with my Grandfather Sam(Sabatino)????? Bob
Bob,

Cris and I are still working on your grandfather, Sam or Sabatino. We know that his and Maria Antonia's first son was born in 1890 so there should be a marriage record for them in the SPA records. We can't find one. That is fairly unusual as the record keepers in SPA, even a century+ ago, were pretty good.

Its possible that they got married in another town.

Cris is going to her Family History Center (run by the Mormon church) and do some more searching through the microfilmed records.

I've attached a scan of the 1890 birth record for Vincenzo. On it, you see the handwritten signature of Sabatino Colaianni, your grandfather.

I'm working on the Chirillo story right now.

ciao.
Mark
Bob,

Carmelita sent me several photos. They are attached.

ciao.
Mark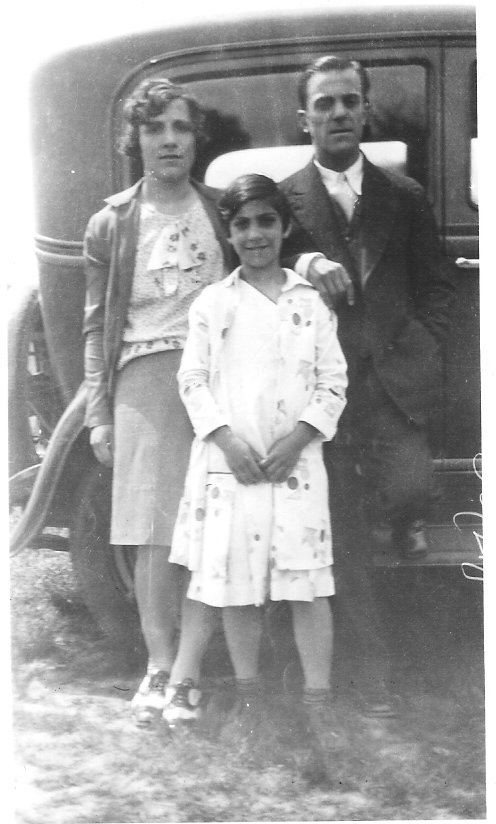 Sam Collian Jr. (Samuel George Collian 1903-1981), Bob's father, Carmelita's mom (Carmella Scale (Scali) (1915-2006)) &
Carmella's sister Mary (Mary Helen Scale (1920-?)),

about 1955 Bruno Scali and Santa Collian

undated Bruno Scali and Santa Collian
Mark....Thanks for the info. and all of the docs. about the Chirillo side of the family.Even thou all are gone now, I
remember some of them from 30-40 years ago. I have 2 cousins from my Uncle Louis, and 1 cousin from my Aunt Angeline.
I'm sure they will be interested in all this. The photo. that came from Carmelita Sullivan. I recognized everyone.
The unknown man in one of the pictures was my father. I know more about the Chrillo side because not like my
grandmother...my mother gave me a lot of information. Yes, Yes, that photo of me is my class picture the year I
graduated (1949) I told Cris, you two sure are working your tails off. Must really love what you do. God Bless both
of you.
Ciao.....Bob
M A R K.......I don't know how much more research you and Cris are going to do. Lord knows you both have given 100% if
not more. Have you or Cris had any expenses with all this???? I would like to pay my way. I could give you both a HUG,
but you're too far away. I could have my wife make some pizzelles to send you both. Anyway I appreciate what both of you
have done, and feel I need to repay both of you in some way. Think it over
ciao......Bob
Bob,

I know that Cris is going to do some more work this week trying to connect Sabatino Colaianni to his parents.

We both do this because we enjoy it. And for Cris, she finally explained her family story about diphtheria in Freedom, PA.

For me, pizzelles are always appreciated.

ciao.
Mark
Bob,
I do this because I love it. I love connecting the families, I love the hunt and I love the mystery. I know it may sound hokey, but whenever I find a new document for another relative it's like saying a little prayer for them. And you have no idea how wonderful it has been finally connecting my great grandmother to her sister and knowing who the relatives in Wooster are.
Its been quite a journey. And I think that in lieu of pizzelles (although I love them), I will take that hug next time we get to Ohio. I am hoping it is soon. I'd love to meet you and your wife and take you out to lunch. And don't be surprised if I make a visit to St Mary's Cemetery.
Ciao,
Cris
Carmelita,

I've copied Bob on this email so you can get his email address. I'm hoping that you are successful in your research.

ciao.
Mark

PS: Here is part of an email that I sent to Bob talking about the Colaianni name and the ways it changed:

> First there was the older Italian spelling - Colajanni.
>
> The letter "j" is not in the Italian alphabet. Words with "j" were
> usually foreign words. We don't know yet the origin of the surname Colajanni.
>
> The spelling in Italy about 1875 slowly changed to - Colaianni.
>
> Colaianni is a hard word for English speakers to pronounce.
> It is co-la-e-an-ne (where the 'a' are soft and the 'e' are hard).
>
> Cris found that once in the US, people started using other
> spellings. They included Colian, Collian, Coliani, Colianni,
> Coliann, Colianne, Colon, Coliano, and maybe more that I've missed.
>
Hi Mark....Haven't talked to you for awhile....I have been going back and forth with Carmelita. We both have learned a
few things about the past.....Have you or Cris found and more info. on Sabatino Colaianni???? From the way Carmelita
talks, she is very happy for all the info. you are sending her.
Later...Ciao...BOB
Bob,

I'm glad you and Carmelita have been able to get together. Cris and I would be interested if you solve any more of the mysteries.

I've written to the Wayne County Library and asked them if they have any newspaper stories from when your grandfather and step-grandfather were killed.

We are still trying to figure out how we can identify the correct Sabatino Colaianni. Cris has been doing some research in the SPA birth and marriage records but nothing conclusive has been unearthed.

ciao.
Mark
Bob,

According to my genealogy program we are related 18 different ways!

This is the closest - 5th cousins:

Robert J. "Bob" Collian and Mark Camillo DiVecchio are 5th cousins. Their common ancestors are Braggio Giustino "Giusto" Frazzino and Carmina Carlino.

Here is the path up your family tree:

Robert Collian
Samuel George Collian
Sabatino "Sam Collian" Colaianni
Anna Maria Frazzino
Aurelio Frazzino
Sabatino Frazzino
Braggio Giustino Frazzino and Carmina Carlino

(then back down my tree)

Braggio Giustino Frazzino and Carmina Carlino
Giuseppe Giulio Frazzino
Lucrezia Carmina Frazzini
Doristella Michela diTella
Lucrezia Carlini
Benilda Albina Victoria Frazzini
Mark DiVecchio

ciao.
Mark
Carmelita and Bob,

Cris and I have been struggling to confirm the parents of Sabatino Colaianni and now I think we have succeeded.

If you recall, we have been looking at about 5 different men named Sabatino Colaianni all born between 1860 and 1870.

We found the birth records of several Sabatino Colaianni but we could not tell which was the correct person. We wanted to find the marriage record of Sabatino and Maria Antonia. Those records always contain the names of the parents.

We had found a child born to Sabatino and Maria Antonia on 16 Sep 1890 so we figured that they were married a year or two before that.

We looked in our notes from the microfilmed civil records from the LDS church and we both visited our local Family History Centers to recheck the actual microfilms. None of that turned up anything. We realized that the civil marriage records from 1884, 1885 and 1889 were lost so it was possible that they were married in one of those years.

Seemed like a dead end.

Then I thought to email our cousin, who lives in Roma, Giuliano Colajanni. He has a house in SPA and, since August is the big vacation time in Italy, he was staying in SPA. I asked him if he would look at the church records (which are

not

microfilmed) to see if he could find the marriage.

He did!

I've attached a photo of the record that Giuliano sent me. As a church record, it is written in Latin.

It shows that they were married in the Saints Peter and Paul Church in SPA on 23 Jun 1886. We already knew Maria Antonia's parents and this record confirmed them. The record listed Sabatino's parents as Generoso Colajanni and Anna Maria Frazzino - which was our latest best guess.

The record does point out an interesting fact - they had a

civil

marriage (in the municipio - or townhall) in 1885. Cris and I will try to find out more about this.

With this new information in hand, we went back and looked at our notes from the birth and death records and we found another child of Sabatino and Maria Antonia. So this is a sister of Michelina, Santa and Samuel George. Her name was Giovanna and she was born on 11 May 1886 (just before they were married in the church but after their civil marriage). Sadly, then we found that she died soon after her birth. We will see if we can find the exact date.

So when the family came to the US in 1897, there was just Maria Antonia and her two children Vincenzo and Michelina. (We have not yet found any record of Sabatino's arrival.) Of course, we know that Vincenzo died of Diphtheria in Freedom, PA soon after their arrival.

ciao.
Mark
Bob,

The pizzelle's were great and are more than adequate 'payment'.

I just got an email from Carmelita on Saturday. She asked about finding the family in the 1900 and 1910 census. She said that she could not find them and I confirmed that (besides Maggie), we could not find anything in those census either.

In that email, she said:



> I learned that my mother was the product of a relationship my grandmother




> had with a boarder who lived in a boarding house she & her sister Maggie ran.




> Not sure if it was in Coraopolis, PA or Wooster, OH. No one knows what became of the man.



I also sent her the information and photo of the 1886 church marriage record of Sabatino and Maria Antonia.

Bob, remember that this search as been particularly interesting to Cris. She heard that family story about the children dying of diphtheria in Freedom, PA and she was finally able to confirm it and identify all the people involved. That's a big win for a genealogist.

ciao.
Mark
Hi all,
Thanks to Mark & Cris for the newspaper articles referencing the deaths of Maggie's 2nd & 3rd husbands. Very interesting that the investigations never led to any arrests or convictions.
I have a question that maybe one of you can answer. I think it was Cris who said that my great grandmother, Maria Antonia Colaianni, stopped to see a relative in Freedom, PA on the way to her ultimate destination & while there her son Vincenzo died of diptheria. I don't remember seeing another child accompanying her & Maggie on the EI immigration record. Did she give birth soon after she arrived in NY? I'm curious also as to how you found this information.
Carmelita
Carmelita,

That was Cris who found it.

I've attached the 1897 EI arrival of Maria Antonia, son Vincenzo 7y and daughter Michelina 5y.

This was one of the first big clues as what was going on. Cris had a family story about two children dying in Freedom but didn't know any details.

We found this record and when we found other later information about Maggie alive in Ohio, we put two and two together and realized that it was Vincenzo along with Cris' granduncle, Giuseppe (Joseph) diTella who died in Freedom.

ciao.
Mark
Date: Sat, 14 Aug 2010 18:02:11 -0700 (PDT)
From: carmelita williams
Subject: Colaianni family



Hi Mark & Cris,




I wanted to thank you again for helping me find a link to my mother's ancestors in Italy. I have learned SO much since our first e-mails. I am, however, confounded by something. I confirmed my great-grandmother, Maria Antonia Colaianni & her 5 year old daughter Michelina (Maggie) entering the US on 12/30/1897 @ Ellis Island bound to join their husband & father. After that I can find nothing on either one in the 1900 census. I find Maggie in 1910 in Coraopolis, PA but nothing about Maria Antonia or my grandma Santa, who would have been about 10 or 11 in 1910. Santa shows up in 1920 in Wooster, Ohio. I can find nothing about my great grandfather Sabatino Antonio entering the US or anything there after. Am I missing something here?





I learned that my mother was the product of a relationship my grandmother had with a boarder who lived in a boarding house she & her sister Maggie ran. Not sure if it was in Coraopolis, PA or Wooster, OH. No one knows what became of the man. Mark, Bob Colian was very helpful in solving some of this mystery. His grandmother was Maggie, my grandmother's sister. As it turns out, she was also his aunt! Bob's father Sam was Maggie's brother. Maggie married Joe Chirillo & had Elizabeth (Lee). Sam married Lee, his niece & had Bob. Wow, how strange is that! Oh well, who knows why people did what they did. Bob & I agree that our family was very closed mouth about so much of their past. Why, I'm not sure.





Please stay in touch & pass on any information you think may be of interest to me. I'll do the same for you. Thnaks you so much for all your help.





Carmelita
Carmelita,

Your assement of the lack of information is exactly correct.

Cris and I could not find Sabatino's immigration, we could not find anyone in the 1900 census and we only found Maggie in the 1910 census. They stayed pretty well hidden until 1920. The family back then was very closed mouth about their pasts.

I think in general, though, they really considered the "old country" to be the old country. They left because it was a very difficult place to live during the late 1800's. It wasn't a place of fond memories.

I have written to the Wayne Public Library in Wooster asking if they have any newspaper articles on the killings of Joseph Chirillo or Sam Monaco.

ciao.
Mark
about 1960 Santa & Venanzio Lachiazza


From: carmelita williams
To: Cris Swetye
Sent: Monday, September 06, 2010 1:46 PM
Subject: Re: Collian docs



Hi Cris,




Thanks so much for the news articles on the Chirillos, Collians & Monacos. Maggie certainly got around!! I don't ever remember meeting her & I went to Ohio every summer when I was young. We would all get together in the arbor in the back of the house @ 821 Rebecca St, the Scali family home, where my Uncle Joe & his family now lived. There were tables just groaning under the weight of all the food. Every one would feast & talk & laugh for hours. I remember many of the people, but not Maggie. Were you in Wooster researching @ the library when you found those articles?





Yes, my grandmother was last married to Venanzio Lachiazza. He was the only grandfather I ever knew. He was a very kind man who was wonderful to my grandmother & treated us all like we were his own. He was very stocky & southern Italian looking. He & my grandmother lived in Louisville, Ohio. He must have had some money because I remember their beautiful home & he always drove nice, big cars. Grandpa Bruno died in 1956 & Venanzio died, I think, in 1966. I'm not sure when my grandma married Venanzio.





A photo of Santa & Venanzio Lachiazza at my family home in Virgina probably in the early 1960's.





Carmelita
Carmelita sent these photos of a 2010 gathering of the Scale and Collian families along with a description of each: