Don Sabatino arciprete Frazzini
This Page last updated on .
Sabatino Antonio Frazzini was the brother of my great-grandfather, Ippolito Frazzini. He was the son of Felice Amato Frazzino and Liberata diSanza. Sabatino was the priest in San Pietro Avellana and baptised my mother in 1912. He was born in SPA on 11 Mar 1845. My mother remembers the funeral procession when he died (my mother was 8-9 years) about 1921.

I got this list of "Arcipreti" or head priests at the church in SPA:

Giovanni Salvatore 1769-1812
Paolantonio del Re 1815-1860
Giovanni Frazzini 1862-1903
Sabatino Frazzini 1903-1921
Liborio di Comso 1921-1946
Francesco Riga 1947-1949

From the book "Il Mio Paese Racconta" by Mario Colaianni 1996.

After doing some investigating, it turns out that both Giovanni Frazzini and Sabatino Frazzini are great uncles of mine (but one generation apart).

In 1903, Sabatino took over as head priest upon the death of Don Giovanni Frazzini. Don Giovanni is my 2nd great grand uncle and he was arciprete from 1862 to 1903. He was born as Giuseppe Giovanni Frazzino on 18 May 1824 and died on 21 Jan 1903 at the age of 78.


circa 1880
Photo from the Museo in SPA.
Sent to me Dec 2009 by Giuliano Colaianni

Photo postcard addressed to my grandfather Emilo Frazzini, Beaver Falls, PA. In the book "Il Mio Paese Racconta", Mario Colianni notes that Sabatino was the priest from 1903 to 1921. He wrote the book, "Vita di Santo Amico" (Life of Saint Amico), in 1887.


In 1906 Sabatino officiated over the opening of the Cappella di S. Amico in SPA. Here is the inscription over the door. Ron Frazzini sent me this translation:



"

To God (almighty or omnipotent) in honor of the miraculous
St. Amico, monk and hermit,
who revealed much in this woods
to the devoted at the dawn of the twentieth century.
They built this chapel,
solemnly blessed
by the arch priest Sabatino Frazzini
on October 1, 1906,
to the grand servant of God, Amico,
who always was
our friend and protector

.

"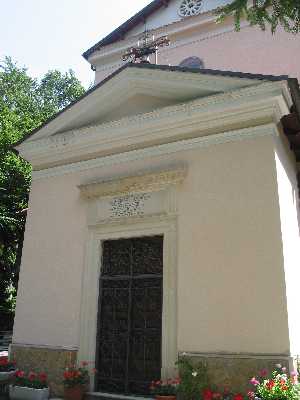 Cappella di S. Amico in San Pietro Avellana. Note the inscription over the door.

Baptism record 1919 #60 from Chiesa SS Pietro e Paulo in San Pietro Avellana. Priest for my mother's baptism was Sabatino Frazzini, her great uncle (brother of her grandfather Ippolito Frazzini).

---
Historical documents from SPA
Birth from LDS microfilm 1338776, dated 11 Mar 1845 index #13.

1869 SPA Status Animarum, ref 293, via La Plaza, lived with grandmother, Maria diFlorio and parents, Felice Amato Frazzini and Liberta diSanza.


---
To: Maruizio Frazzini
Sent: Tuesday, August 03, 2004 7:44 AM
Subject: Priest Sabatino Frazzini

My mother sent me this photo. She thinks it is Priest Sabatino Frazzini. On the back, it is addressed to my grandfather, Emiliano Frazzini in Beaver Falls, Pennslvania.
There is no year on the photo. What do you think?

Mark
------------
Mia madre mi spedì questa fotografia. Lei pensa che è Prete Sabatino Frazzini. Sulla schiena, è indirizzato a mio nonno, Emiliano Frazzini in Beaver Falls, Pennsylvania.
Non c'è anno sulla fotografia. Cosa pensi?

Marco

Date sent: Thu, 19 Aug 2004 18:06:25 +0200
From: maurizio frazzini
Subject: R: Priest Sabatino Frazzini



> ti confermo che si tratta senza alcun dubbio dello zio arciprete Don Sabatino fratello del Bis Nonno Pasquale che ha inaugurato nel 1906 la cappella nel bosco dedicata a S.Amico protettore e patrono di S.Pietro Avellana.



Rough computer translation:


I confirm without any doubt that this is uncle pastor Don Sabatino brother of Great Grandfather Pasquale that inaugurated in 1906 the chapel in the woods devoted to S.Amico, protector and patron of S.Pietro Avellana.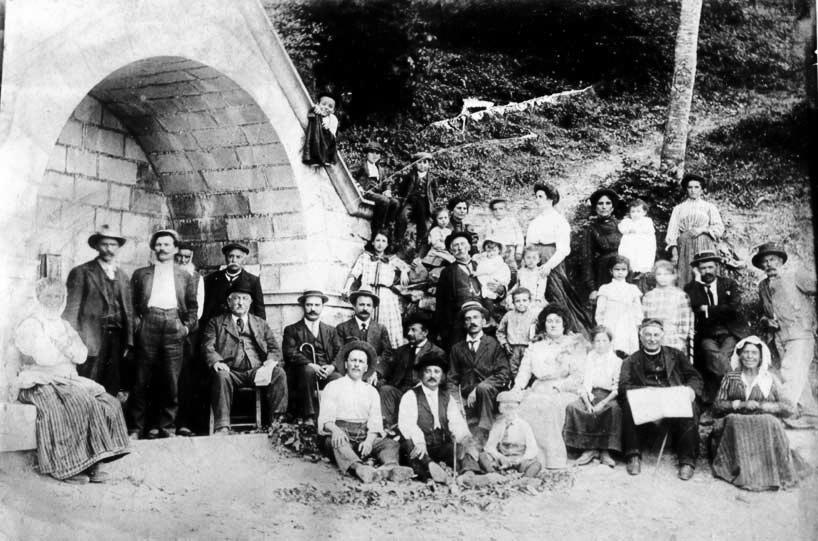 I received this photo from Franklin Smith in Jan 2005. It is © Copyright by Franklin Smith. Used with permission. He sent me this email:

Hi Everyone.




Here is a shot that is priceless, and I got it from Mary Frazzini. Mary said this was the Frazzini's of San Pietro Avellana. It is a very old shot, and my guess is around 1910 give or take ten years. I can only identify one possible person. The man bottom right holding what looks like a newspaper is a Priest. This would make him Sabatino Frazzini who was the priest in the years 1903-1921. So now we have a real who's who.




Sure are a lot of them aren't there? And this doesn't include all the ones who had already left for America.




Ciao Franklin



Dating of the photo: The Chapel of Sant'Amico was dedicated in 1906. This arch is the "fontana" or water fountain next to the chapel. Sabatino (if this is really who it is) died in 1921.

Can anyone help identify who these people are? Click here for index drawing.
Pasquale and Sabatino Frazzini were brothers.

1. ??
2. ??
3. ??
4. Pasquale Frazzini who married Raffaella Perilli
5. ??
6. ??
7. ??
8. ??
9. ??
10. ??

11. ??
12. ??
13. ??
14. ??
15. ??
16. ??
17. arciprete Sabatino Frazzini ??
18. ??
19. ??
20. ??

21. ??
22. ??
23. ??
24. ??
25. ??
26. ??
27. ??
28. ??
29. ??
30. ??
31. ??

9:28 AM 2/22/2005
from Maurizio Frazzini



mi dispiace di non aver risposto prima, ma non apro la mail ogni giorno, comunque ritengo che la persona seduta sulla sedia sia il mio bis nonno (grand grand father Pasquale che aveva sposato Nonna Raffaella Perilli), ed era al tempo stesso il fratello dell' arciprete Don Sabatino che nel 1906 ha costruito la Cappella di S.Amico




ciao a presto





I am sorry not to have answered before, but I don't open the mail every day, however I believe that the person sitting on the chair is my great grandfather (great grandfather Pasquale who married Grandmother Raffaella Perilli), and who was at the same time pastor Don Sabatino's brother who in 1906, built the Chapel of S.Amico




bye, talk to you soon



---
This site prepared and maintained by Mark DiVecchio

email : markd@silogic.com

DiVecchio HOME
Frazzini HOME
Site HOME



Visit the group by clicking here: SanPietroAvellana.
If you can help with the expenses to develop this web site:

---