Rosa Frazzini Buzzelli



My mother's aunt Rosina Frazzini married Giuseppe (Joseph) Buzzelli. I have an old address for Buzzelli on E 105th Street in Cleveland, OH. Her death certificate showed she was born on 5 Nov 1893. There are no birth records available for 1891 to 1893.

She was thought to have died of tuberculous. Year of death, about 1940, a guess by Benilda Frazzini. I have found out this year is correct (from her death certificate). I found this

obituary

:



Cleveland Public Library Archive:

Cleveland Necrology File

Id#: 0045826

Name: Buzzelli, Rosina Farazzinl

Date: ?

Source: Source unknown; Cleveland Necrology File, Reel #012.

Notes: Buzzelli: Rosina Farazzinl, beloved wife of Joseph, mother of Angelina and Helen, passed away Nov. 22. Funeral from P. Coreno Funeral Home, 10514 Kinsman rd. Services from Our Lady of Mount Carmel Church, 10 a. m. Tuesday.


Information from Bina Frazzini Bozzi, Apr 2005: "I knew Rosina and her daughter Pierina before they went to America."


Angelina Buzzelli



Angelina was Giuseppe's daughter with his first wife, Maria diMenna. Angelina was born in CdS. I have a copy of her birth registration.



1930 Census

, 16y, Cleveland OH, living with parents and sister Helen. Immigration 1927.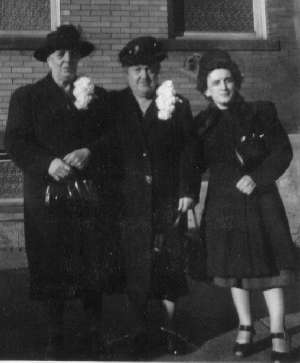 Photo of Angelina Buzzelli, on the right, daughter of Giuseppe and his first wife Maria diMenna.
This photo was taken on 9 Nov 1949 at the wedding of my parents.
My grandmothers are on the left (DiVecchio and Frazzini).



Angelina never married and died 11 Jul 1985:



Cleveland News Index
BUZZELLI, ANGELA : Daughter of late Joseph (Obit.).

Title: * BUZZELLI, ANGELA : Daughter of late Joseph (Obit.).
In: * Plain Dealer 15 Jul, 1985, pg. 08 sec. D
Subject: * BUZZELLI, ANGELA
* Obituaries --1985 --B
System ID no: * ABN-6183

Angela Buzzelli, beloved daughter of the late Joseph and Mary (nee Di Menna). Died July 11. All services to held Tuesday, July 16 at St. Michael's Church (3114 Scranton Rd.) at 11 a.m. Friends will be received at the the Salerno Funeral Home, 1622 Broadway, Maple Hts., (between Libby and Lee), 662-8222. Visiting Hours Monday 2-4 only. Contributions to St. Michael's Church Restoration Fund would be appreciated.



SSDI: ANGELA BUZZELLI 14 Jan 1913 Jul 1985 44113 (Cleveland, Cuyahoga, OH) 276-16-9357 Ohio

I found Angela's record from the Probate Court of Cuyahoga County, Ohio:
http://probate.cuyahogacounty.us/pa/pa.urd/pamw2000.o_case_sum?44869608

This record pointed me to Marlene Hazeltine. I wrote Marlene and she wrote me back. Marlene was a neighbor of Angelina and was the executrix of her estate after she died. Angelina was Marlene's god-mother (commare). One item Marlene sent was a birth certificate which confirmed Angela's birth date as 14 Jan 1913 and the names of her parents. She also sent me a copy of Angelina's father's naturalization certificate.

Marlene sent me the following email:


"

Angie was not related to us, but was a close friend of my mother, Anna Rinaldi. She was also my godmother. We lived on east 110th St in Cleveland until I was 12 years old and Angie lived about two blocks from us. She would come over our house for all the holidays and to celebrate our birthdays. She had no relatives in the area after her father past away. She worked all her adult life at the Peterson Nut factory in downtown Cleveland. She loved baseball and especially the Cleveland Indians. She listened to them on the radio, or TV and went to the ball park. She was a true fan. She also loved the Cleveland Zoo and went there with us many times.

Unfortunately the neigborhood that she had lived in most of her life changed and she had to move. She moved to the near west side of Cleveland but was never happy there. I wish I could tell you more about her and her family, but I didn't know any facts about them. I will try and find a picture of her and send it to you. Good luck in your family research!

"


Marlene also wrote:


"

Hi Mark, Angie is buried at Calvary Cemetary in Cleveland, OH. My mother was not a baseball fan but when my parents were first married, they lived on E. 111th St in cleveland. They rented the house in front and Angie and her father rented the house in the back of the lot. They shared a common backyard and that's how my mom got to know her. I knew she had cousins in Akron, but they never saw each other and did not come to her funeral. I always called her commare, which means godmother, and my parents and brothers called her that also. We were like family to her. I'm sorry that I don't know more about her family, but when you're young, you don't think to ask questions and now no one is alive now with the answers. I found some pictures of her that I will send to you.

Marlene

"



1955 Marlene Hazeltine and Angela Buzzelli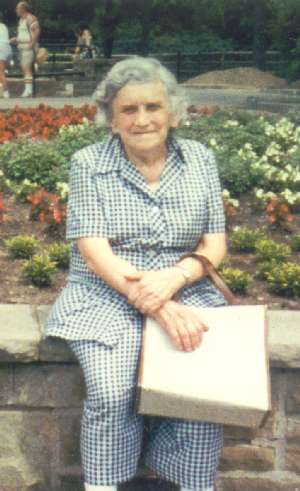 1984 Angela, photo taken at the Cleveland Zoo

Helen Buzzelli



In a

newspaper article

about Angelina dated Nov 1929, it says she is caring for her year old baby sister. That would put the birth of Helen at about 1828. From her death certificate, I found that Helen was born on 23 Sep 1928 in Cleveland.



1930 Census

, 1y, Cleveland OH, living with parents and sister Angelina. Born in US.

Benilda Frazzini remembered she was 16y at death.From her death certificate, I found that Helen died of tuberculous in Cleveland in 1945.