Dear Sue,

I have a genealogy research task for you. First, have you looked at my web site that I started for the Baker family?
http://www.silogic.com/clarno/Bette%20Baker.htm

I've found alot of interesting new information about the Bakers but probably the most interesting is that your great-great-grandmother, Eliza Smith, and your great-grandaunt, Alice Smith Miller, both moved to Oregon and are buried in Cooper Mountain Cemetery. Your mom already knew that your great-grandmother, Laura Ann Smith Baker Young, had moved there.

Looks like, from the death certificates, that arrangements for both were made by Pegg Paxson & Springer Funeral Home. Eliza died in 1920, Alice died in 1925 and Laura died in 1930.

The Tombstone Transcription Project walked the cemetery in 2003 and put the list of people buried there on rootsweb.com. I looked at that list but Eliza and Alice were not on it.

The 2nd husband of your great-grandmother, Laura Smith Baker Young, Thomas Young, is also buried at the same cemetery.

If you have time, how about going by the cemetery and taking some pictures. I don't expect you will find their tombstones but take a look around.

Thanks,
Mark

PS: in other interesting tidbits that I am still researching:
1. your mom's uncle, Thomas Baker, may be buried at the Los Angeles National Cemetery.
2. A first cousin of your mom, Rufus O. Baker may have lived and died in West Linn, Clackmas Co. He died in 1984.
Mark,

I drove directly to the cemetery, via your location, and still had to stare about quite a bit to recognize that the big corner lot/field, was indeed a cemetery. I parked by the side of the road and pulled back a rickety gate (at least it wasn't posted "No Trespassing") and walked into a large field with less than a dozen grave markers. None belonged to our family members. Four basic families were represented, three of whom had streets named for them in the area and one additional Germanic sounding name. Our family members are now an indiscriminate part of a larger field. Enjoy.

Sue
Sue,

Thanks for doing the feet-on-the-ground work. I didn't figure the tombstones would be there.

I might be interesting if you could find out if there are records regarding the cemetery still around. The grounds appear to be kept up so there must be a maintenance crew. If that much support in still in place, there may be plot maps available. It still might be possible to locate the graves even though the tombstones are missing. It would be an exciting task.

Mark

PS: Your great-grandmother, Laura Ann Smith Young is also buried somewhere in the Portland area. From her death cert, it appears to read "Davis" cemetery, although it is very hard to read. I need to do a little more checking. It does not come up on a Google search.

Dear Sue,

Can I ask you to do a couple more Genealogy tasks when you have time?
-----
Since the Cooper Mountain Cemetery was not in good shape, we can try to find out if there are any records (like plot maps) for it.

The goal would be to check around Aloha and find out anything about the cemetery:
1. who owns it?
2. who maintains it?
3. who has records for it?

A few quick phone call to these kind of folks might lead to some info (you may think of other possibilities):
1. Aloha Chamber of Commerce
2. Aloha Library
3. Genealogical Society of Washington County Oregon
-----
The second thought I had would be to call


Pegg, Paxson & Springer Funeral Home
4675 SW Watson Ave
Beaverton
503-644-1176



Explain to them the situation and ask if they have any historical information about Eliza, Mary Alice or Laura.

Here is a summary of your ancestors that should be buried at Cooper Mountain with burial arrangements handled by Pegg:



Eliza Smith died: 6 Aug 1920 buried: 7 Aug 1920 Cooper Mountain
Mary Alice Smith Miller died: 19 May 1925 buried: 22 May 1925 Cooper Mountain
Laura Ann Smith Baker Young died: 28 Dec 1930 buried: ??



Laura's second husband Thomas Young is also buried there but the arrangements were not handled by Pegg:

Thomas Young died: 9 Dec 1944 buried: 14 Dec 1944 Cooper Mountain

Bette thinks that Thomas Young was brought back to Aloha after his death to be buried next to his wife Laura. So that is why we think Laura is also buried at Cooper Mountain but we can't read any cemetery info from her death certificate.
-----
So if you have time, Thanks,
Mark
View from junction of SW Kemmer Road and SW 190th Street
General View
ALOVIS DIZ GASSNER
1877-1942
"Dad"
DORA LEE GASSNER
1882-1942
"Mom"
Dora Lee is the daughter of George Miller and Mary Alice Smith.
Cindy Cole (cl_cndy
yahoo.com), who has emailed me information, is their granddaughter.
ALOIS GASSNER
BORN
DEC. 15, 1847
DIED
JAN. 8, 1916
AT REST
(southeast face)
JUSTINA GASSNER
BORN
JULY 7, 1848
DIED
JAN. 25, 1920
AT REST
(southwest face)
JULIUS GASSNER
1884 1946
AGNES M. GASSNER
1896-1975
Eva Gassner 1910
LEOLA LOWIS GASSNER
BORN
Nov. 27, 1903
DIED
Dec. 2, 1905
(North side of four-sided stone; other sides appear blank. Small "L. L. G." tablet in ground nearby)
XAVIER A. GASSNER
1874-1943
HUSBAND
Bette and Sue,

As I continued searching for info about Cooper Mountain Cemetery, I kept being pointed to St. Cecelia Catholic Church in Beaverton.

Well, I didn't think the Smith's and Miller's would be buried in a catholic cemetery!

I finally figured it out. There are two Cooper Mountain Cemeteries. The one on Kemmer and another on Gassner Road between 190th and Miller Hill Road. This one is about a mile from the first.

I found a transcription for that cemetery
http://members.tripod.com/dgrawrock/Cemeteries/Cooper%20Mountain.htm
and there were Laura and Tom Young along with George and Mary (Alice) Miller. Eliza Smith, though, was not listed.
This web site described the cemetery on Grabhorn Road but I believe that is not correct. It is on Gassner Road.
(Mark's added note: I found Gustav and Rosa Grabhorn in the 1910 census just few pages away from George and Alice Miller, also found a bunch of Gassner's.)

I just didn't believe that tombstones from a relatively short time ago would be gone as Sue found in the first cemetery. I knew we

should

be finding tombstones.

Other names I recognize in this new cemetery are:
Edward H. Miller 1896-1973 --- This is probably Edwin H Miller, the son of George and Mary Alice Miller.

So, Sue, how about another field trip to this cemetery?

Look for tombstones of:
Laura Young 1860-1930
Tom Young 1859-1944
George Miller 1858-1929
Mary Alice Miller 1858-1925
Edward H. Miller 1896-1973
Barbara N. Miller 1914-1983

and if you can find it of:
Eliza Smith ~1832-1920

Mark
Date: Wed, 28 Dec 2005 21:22:18 -0800
From: Don Kelly <ocollaugh
comcast.net>
Subject: Re: Cooper Mountain Evangelical Cemetery, Aloha

There are two newer transcriptions (2004) of this cemetery here.

http://www.rootsweb.com/~orwashin/Cem/cemlist.html

Mark's Note: These transcripts on this site are in some obscure format which my computer could not handle.

---
Here is another source for the transcription of Cooper Mountain Evangelical Cemetery.

The interesting thing is that it lists Eliza Smith but her tombstone is missing. The plat numbers are in sequential order with the other Baker's and Miller's. Below on this page are the plat numbers.
In Jan of 2006, I received a packet of information and photos from Cindy Cole. Cindy is descendant from George and Alice Miller. She had visited this cemetery and here are some photos. I don't know when they were taken.
Mary Alice Smith Miller
George Washington Miller
Laura Ann Smith Baker Young
Thomas Young
Sign next to entrance driveway.
Cemetery Plaque
General view toward the northwest. The row of markers in the next photo is at the center rear of this photo.
Here is the row of markers for the Smith - Baker - Young - Miller family.
From left to right: Mary Alice Smith Miller , George W. Miller, Thomas Young, Laura Ann Smith Baker Young, Eliza Smith.
Note that Eliza's marker is missing in this 2007 photo
Look below and you can see the new marker that we had erected for Eliza in 2016.
MILLER, Mary A.
plat location # 32/2
d. 19 May 1925, age 66 yrs. 8 mos. 31 days
(This information from the Cooper Mountain Cemetery Association.)
MILLER, George W
plat location # 32/3
d. 22 Dec. 1929, age 70 yrs. 8 mos. 13 days
(This information from the Cooper Mountain Cemetery Association.)
YOUNG, Thomas
North of plat location # 32/1
(This information from the Cooper Mountain Cemetery Association.)
YOUNG, Laura Ann
plat location # 32/1
d. 28 Dec. 1930, age 70 yrs. 10 mos.
(This information from the Cooper Mountain Cemetery Association.)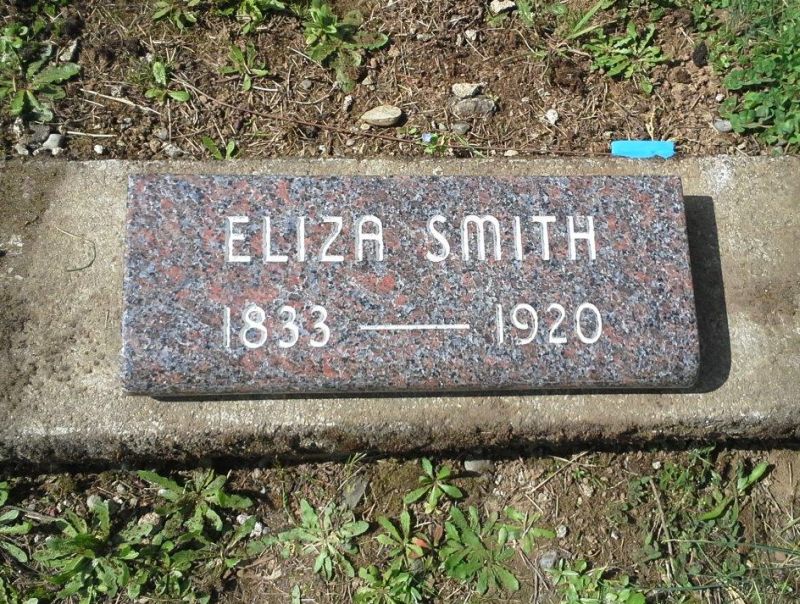 SMITH, Eliza, Mrs.
plat location # 32/4
d. 6 Aug. 1920, age 87 yrs. 7 mos (birth Jan 1833).
(This information from the Cooper Mountain Cemetery Association.)

In late 2015, I ordered a replacement marker for Eliza Smith. It was erected in April of 2016. This is a photo of the new marker.
Fabricated and installed by Vancouver Granite Works.
MILLER, Mrs Barbara N.
plat location # 32/6
MILLER, Edward (Ed) H.
plat location # 32/5
d. 3 May 1973, age 76 yrs.
(This information from the Cooper Mountain Cemetery Association.)

Tombstone Missing
MILLER, Wesley
plat location # 32/7
d. 25 Apr. 1959, age 60 yrs.
(This information from the Cooper Mountain Cemetery Association.)