Modesto Arduino Frazzini


Modesto Arduino Frazzini was my grandfather Emiliano's brother. Modesto (born 23 Apr 1880) was a nataio in Italy. Their parents were Ippolito and Maria Albina Frazzini from San Pietro Avellana. (A notaio is like a lawyer in the US who does commercial or business law, not criminal law.)


My mother remembered that Modesto was married and had three children with his first wife, Amelia Conti. They are Corrado (1912-1929), Albina (Bina), and Rina. He had two children with his second wife, Ambrosina Santella. They are Venustina and Riccardo. A lot of details about this family were filled in by Albina Frazzini Bozzi and her daughter, Rita, who sent me the emails shown below.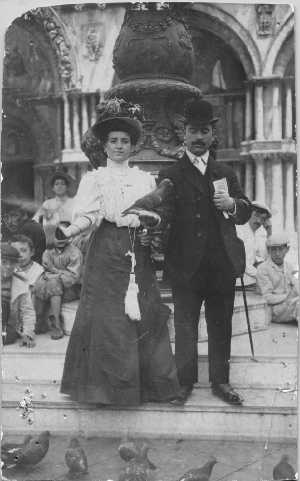 Modesto Frazzini and his wife, Amelia Conti. Taken in Venice in 1910. This is postcard style photo. Click on the image for a larger image.

On the back is some very faded Italian. I've not been able to get it translated. A small image is below. I have a larger scan that is just as unreadable.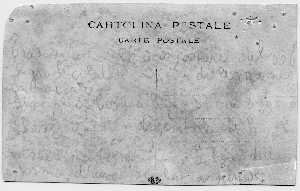 Click on the image for a larger image.

2004 San Pietro Avellana Cemetery.
Modesto was actually born 23 Apr 1880

Modestino Frazzini
From his tombstone



I received this email on 24 Sep 2004:


Dear Mark,
I'm Rita Laura Bozzi, Albina's daughter, and I'm writing to you because Maurizio Frazzini told me about you. We didn't know you went to Italy last summer. Mum would like to let you know she is very happy about you and that you are Benilde's son. So I'll try to translate what she wants to tell you.

"Dear Mark,
I'm Albina Frazzini, Modesto's daughter, and Corrado and Rina's sister.I live in Rome (Via Sirte, 62 00199 ROMA) with my daughter Rita Laura and my nephew Giorgio, my son's son. After knowing you are Benilde's son, my dearest cousin, I've immediately wished to meet her. I remember our childhood and when we were used to meet at our grandfather Ippolito's. I always remember with affection uncle Emiliano and aunt Lucrezia and I'm sorry we couldn't meet because of our far lives. I hope to meet you and your family one day. Best wishes and lots of love
xxx Albina Frazzini"



My mother, Benilda Frazzini, wrote her back in Dec of 2004. We got this reply in Apr 2005:



My dear cousin Benilde,

I received and read with great pleasure your letter. It has been sad spending a long life without news.

Your memory has always been alive but I didn't know your address because since1929, after my father Modesto and my brother Corrado's death (do you remember him?) I haven't been living any more at S.Pietro. In 1927, I attended a boarding school in Rieti (near Roma) and in 1929 at Anagni where I stayed until 1935. After that I passed my school-leaving exam my aunt Michelina (my mother Amelia's sister) kept me with her in Roma in order to attend the university, where I graduated in 1940.

Later on from Roma I went to Sulmona with my uncle Guido Conti (my mother's brother ) and I taught at middle school. I married, in 1948, with Giorgio Bozzi who was Tuscan and Rina's husband brother.

Rina and me live in Roma. I have two sons: Giovanni who was born in june 1949 and Rita Laura who was born in december 1950. Giovanni is married and lives with his family, his first son Giorgio has grown up with me and Rita who never married.

My sister Rina has five sons ( two daugthers and three sons) and now with daughters in law, sons in law and grandchildren they are a big family.

We are both widowed, I since 1967 and Rina since 1975.

Venustina (Ambrosina's daughter, my father's second wife) lives at Carovilli, she is a widow since 1976 (her husband was Andrea Putaturo), with two sons: Vincenzo and Nello. She always taught at Carovilli and we often see each other.

I will tell you abaut another thing. I thank Marco for his letter and I would have the pleasure of knowing him last summer.

I hope you are well with Pasquale, Marco and his wife, Patrizia and Diana.

I hug you with all my heart
your cousin Albina


I had also sent Rita an email asking for some details about her family. She sent me this response in March 2005:



Mark,
I answer your questions

My mother was born at S. Angelo del Pesco on 9th august 1915; she married Giorgio Bozzi, my father, in 1949.
My grandmother Amelia Conti was born in Carovilli in 1894 and died in S.Pietro Avellana in 1923. She married Modestino in 1910
The Modestino's second wife was Ambrosina Santella. She died in 1967 and is buried in Carovilli. She was born in Ateleta. She married Modesto in 1924.
My aunt Rina married Renzo Bozzi, my father's brother. She was born in 1921 and lives in Roma with her daughter Luisa and nephew Giovanni.
My aunt Venustina was born in 1927 and lives at Carovilli. She married Andrea Putaturo and had two sons.

I'll write you again very soon
Rita

Dear Mark,

Here are my mother's answers to your questions.
"Venustina's brother name was Riccardo, he was born in january 1926 and died in june of the same year.
Modestino' s sisters:
- Beata, died very young (I didn't know her)
- Maria Maddalena (aunt Mariuccia) never married. In 1943, during the war, S.Pietro Avellana was destroied and all the
people went to Puglia.
After the war she went back to Carovilli (near S.Pietro) and later went to Campobasso in order to stay in a religious
institute.
She died perhaps in 1952. I hadn't the chance of seeing her because I have been living in Roma.
- Cicolina is unknown to me.
- I Knew Rosina and her daughter Pierina before they going to America.

In the hope of seeing Benilde and family again, love Bina"



---
This site prepared and maintained by Mark DiVecchio

email : markd@silogic.com

DiVecchio HOME
Frazzini HOME
Site HOME


This site will be under construction for a while.


If you can help with the expenses to develop this web site:

---