Early? 1906? Blast Furnaces being built?

Early?
Town name is Aliquippa but view is from the north which means the view is from what is now West Aliquippa. This dates the card to before the merger of Aliquippa and Woodlawn or before 1928. All the open space is another clue. By the 1950's almost every inch of ground was covered with buildings.

1980ca
"Panoramic view of the J & L Steel Mill, one of the world's largest, located in the heart of Aliquippa, Pennsylvania"

---
Linda Polojac wrote of her memories of the J&L plant in Aliquippa.
You can read it here : Life Centered Around the Steel Mill

Fairly modern photograph. 1960's or 70's?



May 2012. Gary Skinner sent me some additional information about this photo:



Legend on the picture I have says:





ALIQUIPPA WORKS, NORTH MILLS - 1964




Also the name: d'ARAZIEN (the Photographer I think)




The picture is 14.25" x 11.25"

Tunnel at the Wye
Rolling Mill?
Seamless Tube?
Town name is Aliquippa so this photo is from after 1928.

Colorized Postcard of above photo.

General offices
Town name of Woodlawn dates this photo to before the merger of Aliquippa and Woodlawn or before 1928.
This building was used at Aliquippa Park. It was moved to its new location and a first floor was added under the original building.
In the photo right above this one, you can see this building at the left center. The building was torn down in the late 1990's.

Blast Furnaces were given girls names when they were rebuilt:. I'm trying to figure out the names:

A-1 (1909, rebuilt 1963, 1982) "?"
A-2 (1910, rebuilt 1970, 1985) "Marcia" From Don Inman, see email below
A-3 (1910, rebuilt 1933, 1976) "?"
A-4 (1912, rebuilt 1966, 1981) "Judith" - from 31 Aug 1966 Beaver County Times
A-5 (1918, rebuilt 1967, 1979) "?"

Blast Furnace list and dates from:
Portraints in Steel:

An Illustrated History of Jones& Laughlin Steel Corporation

by David H.Wollman and Donald R. Inman.



email from Gino Piroli, Apr 2013:
---
Date: Wed, 10 Apr 2013 09:48:03 -0700 (PDT)
From: Gino Piroli <gpiroli

yahoo.com>
Subject: Re: Names of J&L Blast Furnaces
Mark:
I've been around all those blast furnaces during their life and as a pipefitter, leaving in 1967, worked on them when they were down for repair.We always called them, Numbers 1,2,3,4,and 5. Any discussion about them from J&L used the numerical designations. However despite my misgivings a conversation with Joe Letteri, a carpenter at the mill until he retired in the 80s', said that when the furnaces were rebuilt in 1963, 1970, 1966 and 1967 they gave them woman's names, I'm not sure exactly when. A widow of one of the blast furnace workers said she was aware of woman's names being used. I'm trying to find out the names and will get back to you when I do.
Gino
From: Donald Inman
Subject: Blast Furnaces
To: "Gino Piroli" <gpiroli

yahoo.com>
Date: Sunday, April 28, 2013, 10:48 PM



Good evening Gino.



I have been very busy so I have not been able to do as much for you as I had hoped. Below is what I have found so far:



Blast Furnace # 4 was called "Judith" after Superintendent's daughter


Blast Furnace # 2 was called "Marcia" after Superintendent's daughter



If I find anything else I will let you know





Don

Nighttime version of Postcard above.

Based on the old road at the bottom of the photo in front of the houses, this photo had to date from before it became a highway. The white car aat the center bottom appears fairly modern and is most likely postwar. That would date the photo to the 1950's. I have a slightly larger version of this photo and its interesting to look at the different railroads represented by the boxcars. Roads from all over the country.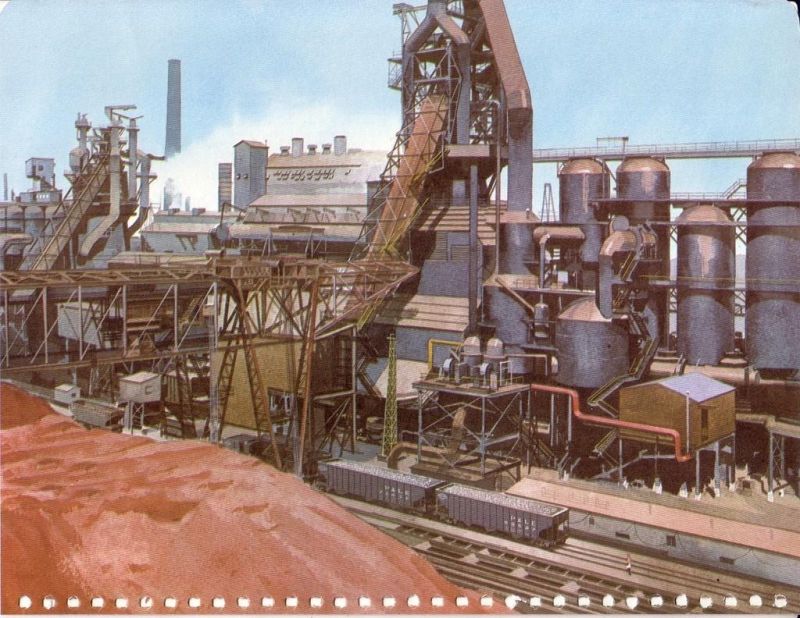 J & L Steel - Aliquippa Works - Judith Blast Furnace


Title of Scene: "

Standing 26 stories high, Judith, Jones & Laughlin's new blast furnace at Aliquippa, Pennsylvania, towers over older furnaces nearby. With a working volume of 54,000 cubic feet, she is one of the largest blast furnaces in the country. J&L's Aliquippa Works has been served by the Pittsburgh & Lake Erie since operations commenced in 1907. Today's modern mill occupies a 5 1/2 mile stretch between the P&LE's main line and the Ohio River.

"

Mark's note: this is Blast Furnace #4 which had just been rebuilt in 1966.

Offices, Jones & Laughlin Steel Co.,Woodlawn, PA

Jones & Laughlin Steel Co. General Office, Aliquippa Works, Woodlawn, PA

Town name of Woodlawn dates these photos to before the merger of Aliquippa and Woodlawn or before 1928.

An aerial view of the North Mill, Aliquippa Works, showing blast furnaces (center) and BOF (upper left), ca 1970.
(Courtesy of Charles Fluharty from the book

Portraits of Steel

)
--click on photo for large version of photo--
P&LE tracks at the left. PRR tracks on the on the other side of the Ohio.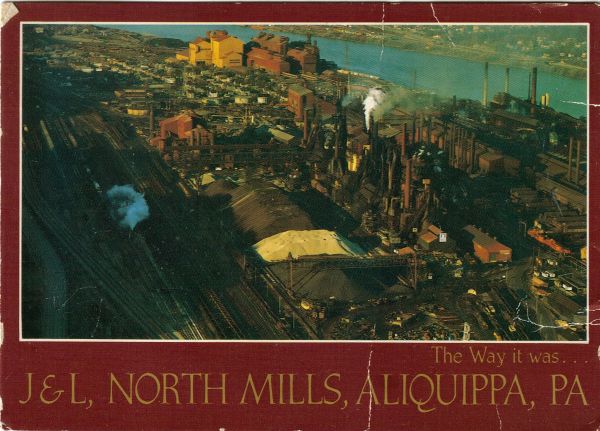 This postcard was sent to me by Bill Gaughan in Dec of 2011.

Old steam engine that ran the Blooming Mill
J&L Steel Aliquippa Works
Sent to me by Bill Gaughan in Dec 2011 who wrote:



I got this photo off a Blooming Mill foremen at the Hopewell vets about 15 years ago. I can't remember his last name.




Dick, got a senior moment. can't remember. Don't know much about when they tore it out. I think it took 2-5000 HP.




electric motors to replace it. I don't know if the old boy is still around, if I see him I know he has alot of info.

Hi Mark, my grandfather was midnight foreman at the South Mills boiler house until he retired in 1967. I've been looking for a snapshot of the big smokestack with "J&L" painted on it that stood over the boiler for my family scrapbook. Do you or perhaps someone you know have a photo like this? Thanks.
Dave Burgess
From: Burgess,David A. <burgesda

hotmail.com >
Sent: Friday, October 24, 2014 4:47 PM
Subject: J&L
Hi Mark, this is the J&L smokestack I wrote to you about on October 14, it's the south mills boiler house and the tin mill, Constitution boulevard on the left. I just wish I had a better shot. If you are aware of a possible source for such a photo, please let me know thanks
Dave Burgess
(This photo from
Historical Pittsburgh
, a comprehensive collection of local resources that supports personal and scholarly research of the western Pennsylvania area.) Notice that Constitution Blvd appears to be a two lane road. Sometime in the 1950's or 60's, it was widened to three lanes (with a suicide passing lane) and then, later, to four lanes.