Mark,

Thanks for the added info, Mark! I'm loving all of this research. I've got
some more research to do at Auburn, for sure. I'm going to get a
dissertation from one doctorate that likely wrote about his experience with
PEPE while it was at Auburn. I may see about getting that before I leave
for Huntsville.
I've updated my album. Feel free to grab the images from the album and
rehost them. For posterity's sake, I took a photo of the "RIP" sign on some
real MECL. Only the most astute of observers would notice the difference,
but you know, it's always the little things. :)
Dunstan Hall is fixing to be torn down, so I'm glad I got access to those
rooms prior to the demolition. Turns out I also found some old stacks of
punch cards filed away in a storage closet. Looks like mostly data, but
there may be some more programs back there too. Probably not PEPE-related,
though. There were several other machines in Dunstan that required punch
cards, of course.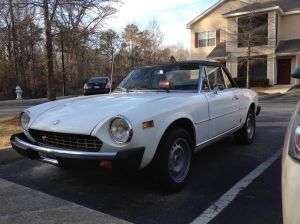 If you give me your address, I could send a few MECL parts your way if
you'd be interested. I can only assume that the date codes around 1973 were
from PEPE, and likely no later. I did come across a large quantity of parts
from 1976, too, but I would say those could not have come out of the
original PEPE.
Also, on an unrelated note...I checked out more of your website, and you
sure do have a stunning MGB! About two years ago, I was dead-set on getting
an MGB (I
couldn't afford an MGA) but my dad really urged me to consider
some Italian engineering instead. I bought a 1976 Fiat 124 Spider and have
had a blast driving it, but find myself working on it perhaps more than
driving it. Well, not quite, but I'll say I did spend a lot of time fixing
the brakes, though it's still pulling hard left when braking. I think I may
have a stuck caliper or something on the right, despite all four being
"professionally" rebuilt by my shop. The Fiat's bumpers are certainly not
as attractive as the early all-chrome stuff, but it's more tolerable than
the later MGBs in my opinion.
Kyle