2008 Eastbound Panama Canal Cruise
From Sally's trip log:

21 Dec 08 Today is a day at sea. We went again to hear the history guy speak in more detail about Columbus' first discovery in this very area we are sailing in the Caribbean in 1492. I sent Mary an e-mail as today is one year since our Mom passed away. I love you, Mom. In the evening, we attended the last song and dance performance by the Rotterdam entertainers. They are so enjoyable. They began and did a segment of songs from the 50's, then the 60's and then the 70's. They had a "Black and White" dance in the evening. I went and danced with a couple of the officers but it was not fun without Mark. (He didn't want to go.)
22 Dec 08 Out last day on the ship, again at sea. We went to a "Disembarkment" talk in the morning, so we can get off OK tomorrow. At 1:30 there was a 5K to raise money for breast cancer research. We had to go 10 times around deck 3 to equal the 5K. (No problem, as Mark and I had been walking around that deck every "sea day".

Cuba!

Here the the elevators. We only used the elevator once (the day we arrived). We took the stairs in an attempt to get some exercise. There were 10 passenger decks, so we were constantly going up and down the stairs.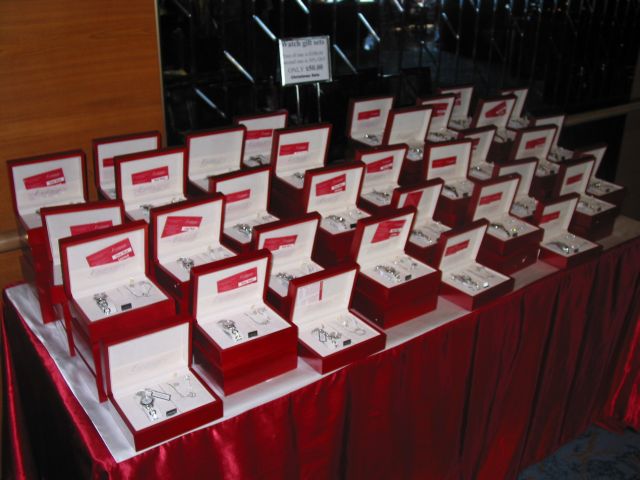 More stuff for sale.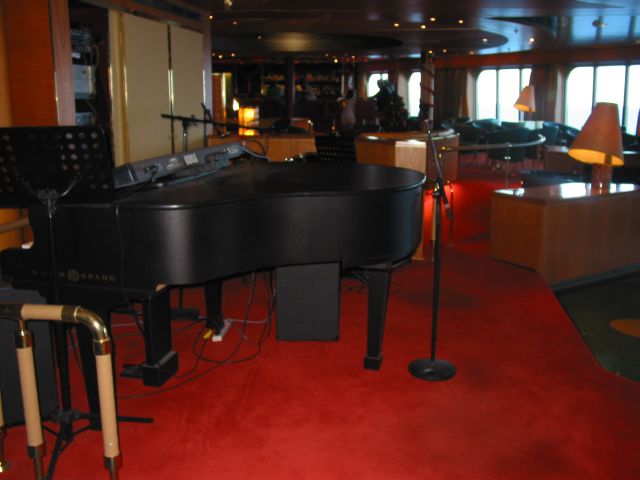 A piano bar.

Can't have a cruise ship without a casino.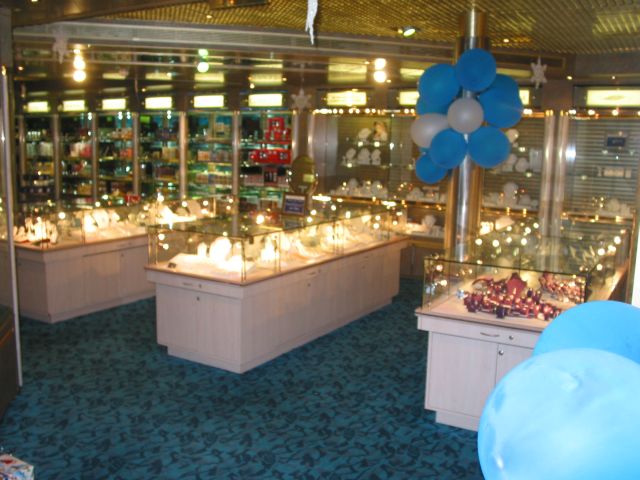 Stores were in abundance aboard the ship.

A piano bar.

You could buy photos. They were taking photos of us all the time.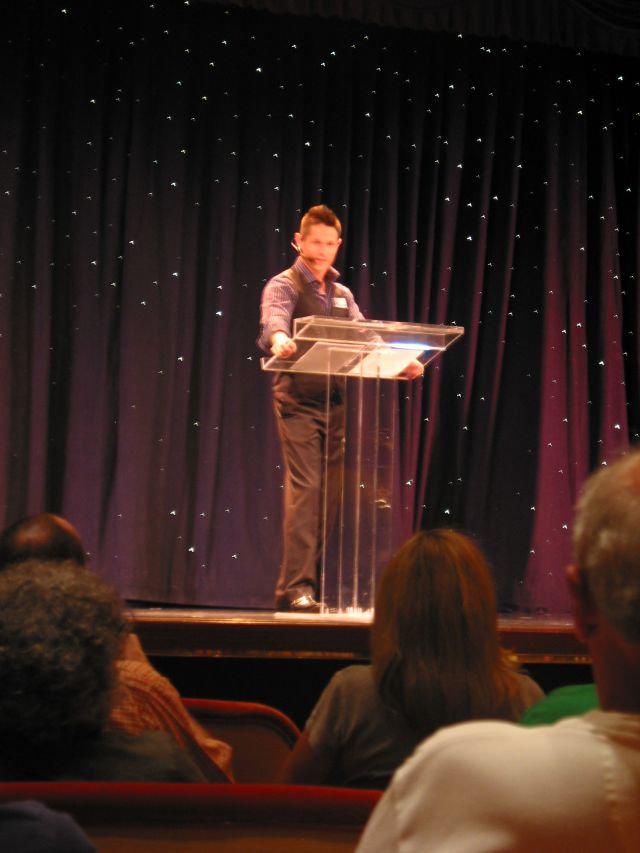 This is Jesse Highly the cruise director. He was in charge of all the entertainment aboard the MS Rotterdam.
Jesse used to be Prince Charming at Disneyworld and he was a clown for the Ringling Brothers Barnum and Bailey Circus.
He is an alumnus of the University of Central Missouri where he was the featured Cover Story for the spring 2007 alumni newsletter. He was featured also in a story in the 10 Aug 2006 issue of the San Francisco Bay Times.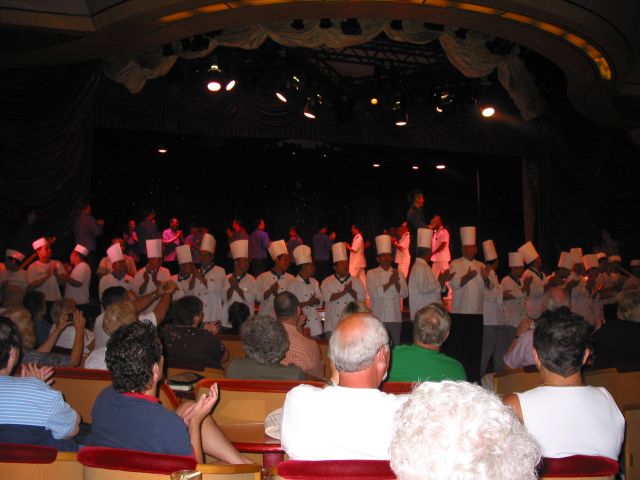 This was a thank you presentation by and for the crew.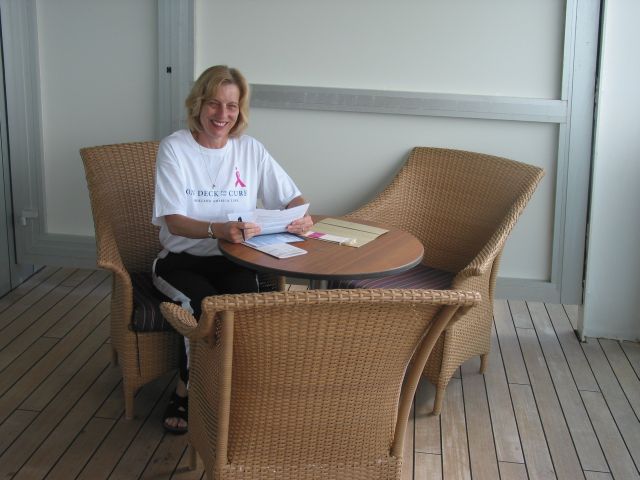 Here is Sally writing her trip log that you have been reading at the top of each web page.

Towel animal

Walking the promenade deck. This is a feature which was common in the past, a deck where you can walk completely around the ship. We were told by a crew member that these are disappearing on newer ships.

Getting ready for the Walk for the Cure for breast cancer. Sally and I walked 5 kilometers - which was 10 times around the promenade deck.

Here is Jesse again getting ready to set us off on the walk.
Photo by John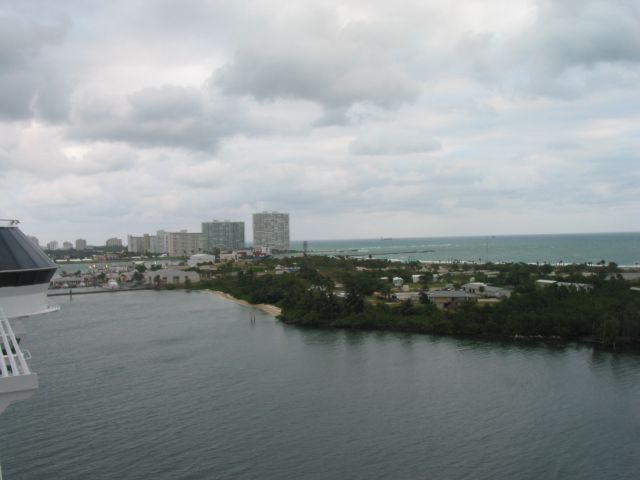 View if Ft. Lauderdale from the starboard side of the ship.

View from our balcony after we docked.

We put out our suitcases the night before and in the dead of night the Indonesians picked them up and moved them to the customs facility ashore.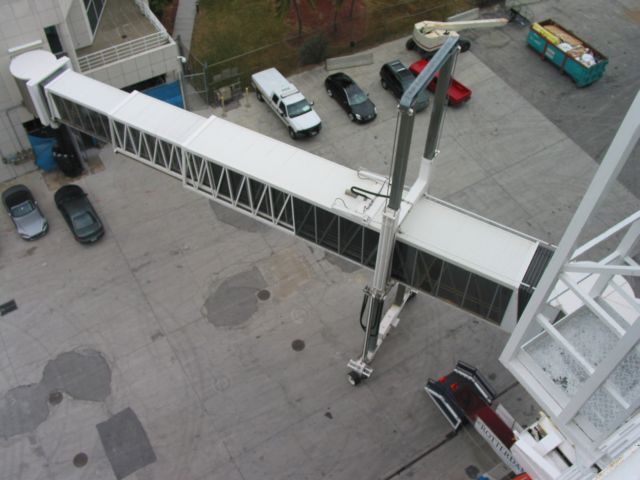 The gangway.

Ft. Lauderdale airport. Flew Southwest to Orlando and then on to Pittsburgh to spend Christmas with my dad and sisters.
Return to Home Page
---
This site prepared and maintained by Mark DiVecchio

email : markd@silogic.com

DiVecchio HOME
Frazzini HOME
Site HOME
---