1949 Via Ladera, Rainbow, CA

Sally and I have selected what may be our home for the rest of our lives. The technicaly correct address per the USPS is 1949 Via Ladera, Fallbrook, CA 92028-8055. That is the nearest post office.



We started looking around in September of 2008. We considered many places in the western US including Flagstaff and Prescott, AZ, Santa Fe, NM, Boulder, CO, and northern California. We finally concluded that we were too acclimated to sunshine, didn't want to shovel snow, and mostly didn't want to be too far away from Sally's family in San Diego.

The growth and congestion in San Diego has become overwhelming. I-15, a mile or so from our old house in Scripps Ranch, is being widened to add 4 more lanes. I think that this will make the freeway about 16 lanes across. When I look up in the sky, I can only see a couple dozen stars. But everything (stores, hospitals, doctors) is nearby -

So to stay in San Diego ..... but not to stay in San Diego.

Like any pursuit, compromises occur. I was looking for an area with dark skies so I can pursue my astronomy. We wanted to be in a quiet area. We needed to be fairly close to hospitals and doctors (we are old, you know). Sally wanted to be able to continue her volunteer teaching (in Spanish) and had to be near a Unity Church. I wanted about 5 acres of land.

Our searching led us to the northern part of San Diego County. We looked in Fallbrook, Vista, Pala, and Valley Center. We looked at a few homes which had large fruit orchards and decided that was not right for us. Some of the homes in this area had million dollar price tags and that was not going to work. Some were fixer-uppers that needed way too much work.

We finally settled on the small unincorporated area just on the northern border of San Diego County called Rainbow. Although Rainbow is about 41 miles north of our old home in the Scripps Ranch section of San Diego, its only about 10 miles south of Temecula in Riverside County. Temecula has all the needed modern conveniences - Henry's,WalMart, Home Depot, Jack in the Box, Kohls, and Starbucks. Rainbow is far enough from any civilization that the skies are still dark. The home we selected is about 4 miles from the I-15 freeway and we can actually see the freeway from our patio off in the distance.

Rainbow is what is called a CDP, a census-designated place. Its part of San Diego County government administration (Supervisor Bill Horn). Wikipedia. Google Maps. Population 1832.

We got a lot of help in the search by Connie and Richard Joy at Keller-Williams Realty. They live just a few miles from our old home in Scripps Ranch. They were right in the path of the Cedar Fire of 2003 and several homes around them burned to the ground. Fire will continue to be an issue at our new home location. There were large fires in the northern San Diego County area in 2007. The home is built to new fire standards and includes an automatic water sprinkler system, tile roof and the very, very important 100 feet of cleared brush around the house.

We became official owners on 8 Jul 2009..


---

First off, where is Rainbow?

As I mentioned, Rainbow is in an unincorporated area of San Diego County. So it comes under county government jurisdiction. California does not have the township type of government unit that I've seen a lot in the east. Population in 2006 was 2026. From Wikipedia:

The area, previously known as "Vallecitos", (little valley), was renamed "Rainbow Valley" in the late 1880s, after Mr. J.P.M. Rainbow, who bought a homestead there.



The mailing address is Fallbrook which is the nearest post office. Zip 92028 and Area Code 760. Our cell phone numbers, though, won't be changing. This map is from Wikipedia and shows the location of Rainbow in red (gray areas are incorporated cities):


---
Here are two descriptions of the property that I found in two different Real Estate listings:



Not A Short Sale-Must Sell! Gorgeous 3200+ Sq Foot Home On 4.59 Acres With Incredible Views All The Way To The Ocean! Builder's Own Custom W 4 Bdrms,2 Of Which Are Downstairs W A Huge Great Room, Kitchenette + Separate Entrance If Desired. Wonderful Open Floorplan. Perfect For Large Or Extended Families Or Guest Quarters. Wonderful Outdoor Covered Patio To Enjoy The Views. Huge 6+ Car Garage. Private Gated Enclave Of Only 14 Homes W No HOA. Seller Motivated! Great Commuter Location.

This home was built in 2005 and is in a wonderful and very private, gated community. Animal designator code L-unlimited horses for personal use. Tons of potential with the land-perfect climate to grow just about anything. The neighbor grows wax flower, protea and tea tree. You could not rebuild this house for this price--an incredible value! Situated 4 miles from I-15-and a short drive to Temecula, the Wine Country and Fallbrook, yet feels like worlds away! Must sell!
Seller's Description: Dreaming of idyllic weekends in the country? Come to Rainbow and enjoy idyllic all year-round where warm days and cool evenings are ideal for outdoor living. Builder's own custom home on 4+ acres with 4 bedrooms, 3 baths, 2 of which are downstairs with a separate entrance. Spend the afternoon relaxing on the patio and enjoy the panoramic views to the ocean as you entertain guests alfresco on the covered lanai. In the evening, curl up with a good book in front of a roaring fire and watch the sun set in the distance. Garage your collection in the attached 6+ car garage!



---
The Property
Here is an aerial view from the south of the property.


The property follows the paved road (Via Ladera) on the west and the dirt road on the north and east. On the south, the tree line and the driveway mark the edge. Sally says that Via Ladera is Spanish for Hillside Road. Our property is pretty steep. The house is perched on rocks. The area on the west end (left in this view) is flatter. The previous owner had cleared a piece of it to use but a lot of that is now over grown.

Here is a better view of the property outline:



---
Exterior Views
Here are some exterior views of the house from one of the on-line listings:



Ocean View --- way out there... somewhere (neighbor's trees & plants)

Patio

Cactus Garden - I hope we don't kill it off.

Sidewalk and Front Door

Front Yard

Back Yard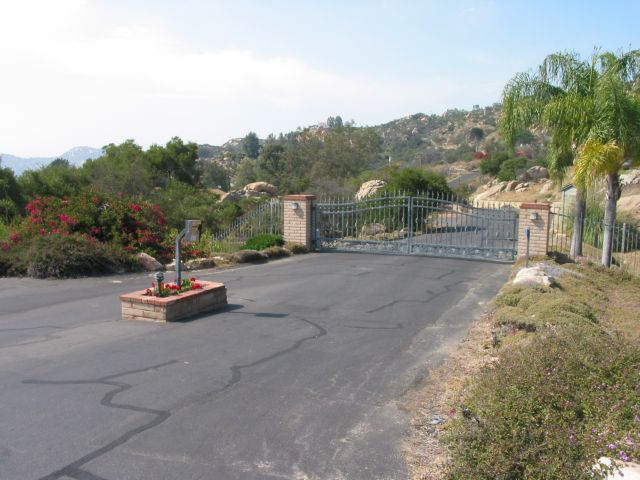 Via Ladera Gate
Via Ladera is a private road so we have a small yearly maintenance fee to pay.
---
Interior Views
Here are just a couple of interior views. We will add more photos after we decorate a little better.


Master Bedroom

Sally's Organ in the Great Room
Dining area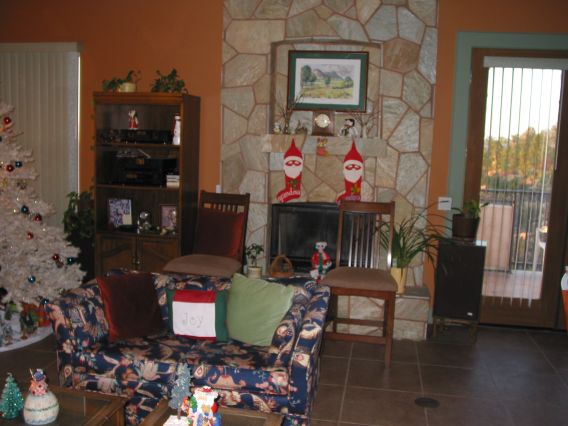 Three views of the great room which combines the living and dining rooms.
Kitchen (with propane stove - just like camping out)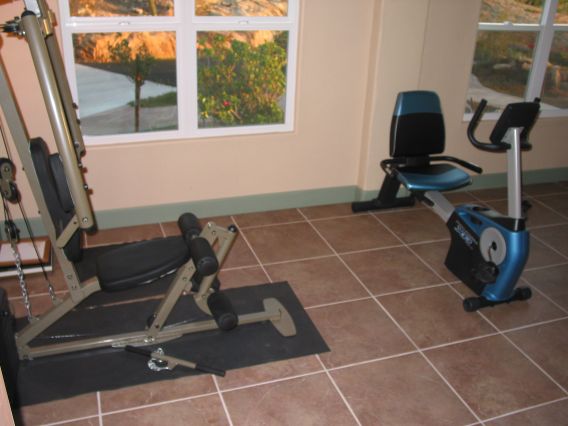 Exercise Room
This room was added on by the previous owners. They used it a formal dining room.
One of the bedrooms has become a "reading room".
---
Directions to our home
Directions from the south (click here for printable directions) Don't forget to ask Mark or Sally for the gate code:


1.
Hwy 15 N
?
2.
Take exit 51 toward Mission Rd/Fallbrook

0.3 mi

3.
Turn right at

the top of the exit

325 ft

4.
Turn left at Frontage Rd (Old Hwy 395)




5.
Continue on

Old Hwy 395

1.5 mi

6.
Turn right at Rainbow Glen Rd (just past the 7th Day Adventist Church)

440 ft

7.
Road becomes Rainbow Valley Blvd

0.9 mi

8.
Continue straight on 8th St (Rainbow Valley Blvd continues on to the left)

0.1 mi

9.
Turn right at Rice Canyon Rd

0.1 mi

10.
Turn left at Rainbow Heights Rd

1.5 mi

11.
Turn left at Via Ladera (just past the "school bus stop")
(Get "gate code" from Sally or Mark)

0.8 m

12.
Drive 0.8 miles and arrive at

1949 Via Ladera

(on the right - up a steep driveway)
---

Directions from the north (click here for printable directions)

Don't forget to ask Mark or Sally for the gate code

:


1.
Hwy 15 S
?
2.
Take exit 54 for Rainbow Valley Blvd

0.4 mi

3.
Turn left at the top of exit

0.4 mi

4.
Continue straight at the

STOP

sign and then turn right at Rainbow Valley Blvd

1.4 mi

5.

Rainbow Valley Blvd

turns to the right but continue straight to the

STOP

sign and then turn left at 8th St

0.1 mi

6.
Turn right at Rice Canyon Rd

0.1 mi

7.
Turn left at Rainbow Heights Rd

1.5 mi

8.
Turn left at Via Ladera (just past the "school bus stop")
(Get "gate code" from Sally or Mark)

0.8 mi

9.
Drive 0.8 miles and arrive at

1949 Via Ladera

(on the right - up a steep driveway)
---
Tidbits of Information
Like most of Southern California, the Rainbow area started water allocation on 1 Jul 2009. We will be dealing with:
Home Facts
Rainbow Municipal Water District

In San Diego, the city provides trash collection as part of the property tax, not so in the county, We will be dealing with: EDCO - Recycling & Waste Collection Services.

We have a septic tank and a propane tank.

Here is the agent that listed the property : Willis Allen Real Estate - Angelique Lyle

Here are some interactive maps of the area: Live Search Map

---

---
---
---
This site prepared and maintained by Mark DiVecchio

email : markd@silogic.com

DiVecchio HOME
Frazzini HOME
Site HOME

="" href="http://pub49.bravenet.com/guestbook/show.php?usernum=4182907657&cpv=1">="" href="http://pub49.bravenet.com/guestbook/show.php?usernum=4182907657&cpv=1">
---