25 Feb 2001
Sally and I just got back from a skiing trip to Park City, Utah. I've been skiing for about 25 years but this was Sally's first trip.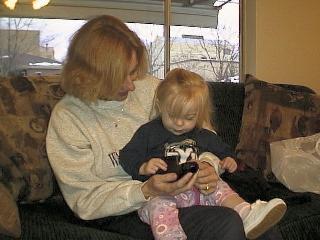 We left San Diego on Sunday January 28th. A quick flight on Delta got us to the Salt Lake City airport by mid afternoon. We picked up our SUV, loaded my skis and our suitcases and headed for Kaysville .... Kaysville? Well, as most of you probably know, Sally's daughter, Kelly, son-in-law, Loren, and first grandchild, Alyssa live there. We stopped there for an hour or so, we were going to return later in the week, and headed off to Park City.
Park City is about an hour east of Salt Lake City on Interstate 80. It was an easy drive and we found the condo were we were staying without a problem - right at the base of the lifts at the Park City Mountain Resort.
After we checked in, our first stop was a grocery store where we stocked up for breakfast and lunch for the week.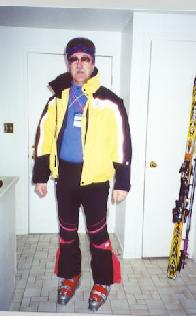 Monday morning was our first day skiing. Sally signed up for a 3 hour "Never Skied Before" class. I was just going out to get my skiing legs back.
I had a great day. No crowds, just ski down, get on the lift, go to the top and ski down again. I had been to Park City about 6 years ago so I really didn't remember any of the runs. I had my handy trail map with me and got a chance to discover the mountain again. It was really cold, though. Must have been 0 degrees at the top of the mountain.
I met Sally after her class. She was exhausted. So much so, she went back to the condo and got into bed the rest of the afternoon. Before we left San Diego, about a week earlier, Sally took a two lessons on the 'carpet' ski slope next to Hansen's Ski Shop in Encinitas. That really was a workout and she found that 3 hours on real skis was almost as hard.
She was so tired and sore that she did not ski on Tuesday. I went out and Sally stayed back at the condo, renting a video and relaxing. I've been trying my hand at black diamond (expert) runs. I'm not very good at them but I made it down a few that day.
Wednesday was our day off. We had a special goal that day. It was to visit as many Deseret Industries stores as we could in 8 hours. We drove back down to Salt Lake City and hit 7 stores, each in one of the small towns in the valley. I enjoy looking for unique things that one can only find in thrift shops.
In late afternoon, we returned to Kaysville and Kelly's family. We spent the evening there and took them out to dinner at Olive Garden. On the way, they took us to look at a couple of houses. They have out grown their small house (since a 2nd child is on the way) and are looking for a bigger place.
Then it was back to Park City.
Our condo was nice. It was a one bedroom and had a very big kitchen. It also had a big patio
which was covered with snow. We had a partial view of the mountain and a panoramic view of Park City. We were on the top floor on the left in this picture. Our bedroom is the window with the white blinds drawn.
On Thursday, Sally was ready for another lesson so we got her going there and I was off for another day of skiing. Again, I met Sal after her class and we went back to the condo for lunch. She said she did much better, attributed somewhat to what she said was a better instructor. By now, she could handle herself pretty well. She could get on and off the lift without a problem.
By Friday, Sal was a real pro. She took her 3rd and last lesson for this trip and I was off for another day attempting the black diamond runs..
Friday night, Kelly and Alyssa came up to spend a day with us. On Saturday morning, Loren joined us. We spent the day introducing Alyssa to snow. I'm not sure if she enjoyed it or not. We went out to a local schoolyard and played around in the snow. That evening, we celebrated Kelly's and Loren's Birthday.
Our return trip began on Sunday the 4th. We drove back to Salt Lake City and met one of Sally's nephews, Stephen Clarno, her brother's son. He recently moved back to SLC so we got to see his new condo (which was torn apart for re-decorating). We had breakfast together and then headed off to the airport.
No problems getting back. It was 80 degrees when we got off the airplane in San Diego.