---
3 May, 1999
Sally and I just got back from our end-of-tax-season-/-birthday trip. This year we went to Idyllwild CA. It is a small mountain town located in the San Bernardino National Forest between Hemet and Palm Springs at about 5,300 feet..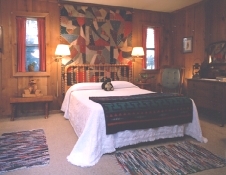 We arrived Sunday April 25 to bright sunny weather. We stayed at a B&B called the Strawberry Creek Inn. (Idyllwild is in Strawberry Valley - don't know why its called that). We were in the San Jacinto Room.
On Sunday, we drove around town a little (took about 3 minutes) and then relaxed. Sally got a chance to play the piano and we both got in a little reading before getting ready for the next day.
On Monday, after a very big breakfast, we hiked up the South Ridge Trail (trailhead at about 6,800 feet) toward Tahquitz Peak - elevation 8,828 feet.. I didn't expect we would make it to the top but we got farther along that I thought we would. We ended up doing about 6 miles total. It appeared to be about another ½ to 3/4 mile to the top. It was a beautiful day, sunny but cool and it got cooler as we climbed up the mountain. That evening we went to the one and only movie theater and saw "The Out of Towners".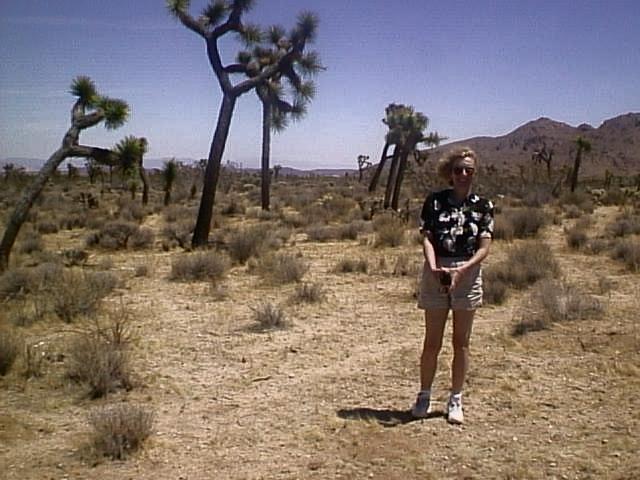 On Tuesday, we took a ride to Yucca Mesa to see if we could find Sally's Desert Rancho. We drove down off the mountain, through Banning on Interstate-10, Yucca Valley and then up to Yucca Mesa. We searched for a about a half hour but being armed with some property maps we found it. Here is a picture of Sally standing next to the pool behind the botanical gardens. As you can see, its quite a spread - and always a cool breeze blowing!
After that visit, we drove though Palm Springs, had dinner in Palm Desert and then returned to Idyllwild via the 'Pines to Palms Highway'.
Wednesday was Sally's birthday so it was her day to do anything she wanted. In the morning, we went on a small hike that offered a view of Tahquitz Peak. As we hiked, the weather started getting bad. At the view point, the clouds and fog were really rolling in. We got a quick glimpse of the peak before it was completely obscured and hurried back to the truck. By the afternoon, the wind had picked up and all the locals we talked to said it was going to snow. We, being flat landers, decided to go shopping. This time in Idyllwild is the low season, the place was pretty empty and unfortunately, a lot of stores were closed during midweek. Back at the B&B, we celebrated Sal's birthday and headed out for dinner. On our way out, it was snowing. By the end of dinner, there was about two inches of snow on the ground. I dug out the truck and we got back ok. By the morning there was at least 4 inches but the roads were clear.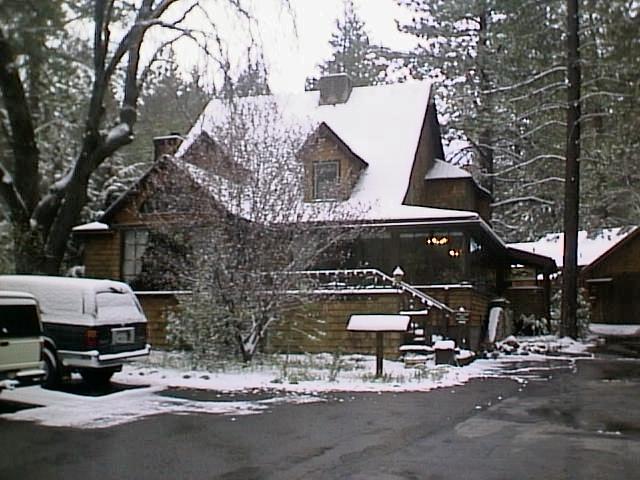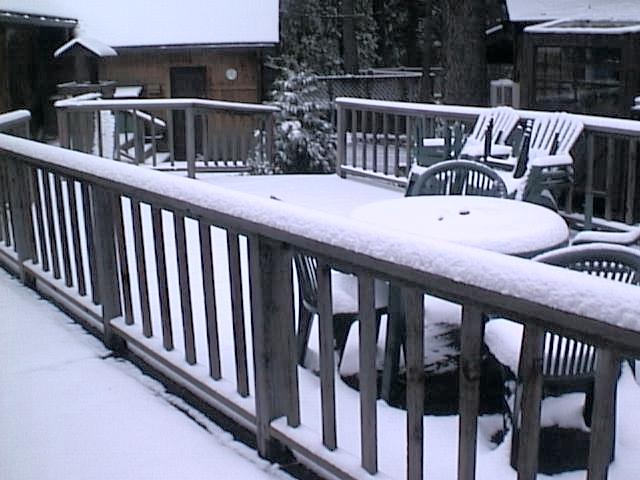 On Thursday, after our fourth BIG breakfast, we packed up the truck (stopped at 2 thrift shops first) and headed home.

samcpa@san.rr.com
markd@san.rr.com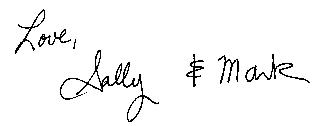 ---